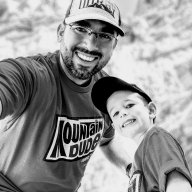 Life Elevated - Rising Higher
Joined

Feb 25, 2013
Messages

600
Heart: Is this place for real? Am I in Heaven?
Mind: No. this is just Oregon. Eagle Creek Canyon if you wanna get technical. ...
Heart: Oh. well it feels like I am in heaven!
I am anxiously waiting for the time I get to go back and visit this amazing place! Eagle Creek Canyon in the Columbia river gorge is one of the most beautiful places I have ever seen. My experience in the Columbia River Gorge reminds me of some of my favorite places in Maui, Philippines, and Italy!
I love swimming, I love hiking, and backpacking, I love rappelling, and I love to admire beautiful canyon walls and majestic waterfalls. Eagle Creek had it all! The water was clear and deep. The waterfalls were gorgeous. I was in heaven.
This canyon was our adventure for day two of our Canyoneering trip to the Columbia River Gorge. This was the Main Event!
The trip started off with a wonderful 3.5 mile hike to Skoonichuk Falls. The rest rest of the day was a romp of amazingness!
Full TR can be found
HERE
Featured image for home page: