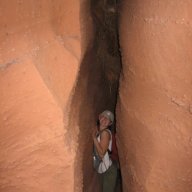 Joined

Feb 24, 2012
Messages

42
For years and years I've wanted to get into more canyoneering, and, for the most part, circumstances haven't allowed much, but also, I'm often told that the routes / hikes I'm interested in are too technical, or should be done with an experienced guide first. I'm not one to just laugh at safety precautions, but sometimes I don't understand why?

I mean, if you've done numerous short rappels, how is a long rappel that different? I'm not trying to sound ignorant or naive, I just sincerely want to know. I know there are issues with keeper potholes and other route difficulties, but if the route is rated difficult merely because the rappels are so much longer, then would that be reason enough to require finding someone who will take you instead of planning the trip on your own circumstances of when you can go, who can go with you, etc.? If you and your friends already know how to set it up and do the rappel safely, why the need for someone who has done the route before?

What I basically need it seems is someone who wants to be my canyoneering best friend--I need someone to take me to do Pine Creek, Englestead Hollow, and everything awesome! It's just that I don't want to pay to hire a guide. I love to make new friends and if someone here wants to take me that's awesome, I have such limited time though that it's difficult to coordinate trips with others' schedules.

Just wondering. Any input / advice would be appreciated.