Adventure is my middle name...actually it's Keith.
Joined

Sep 26, 2012
Messages

444
Originally posted on
HowellsOutdoors
with more photos (and there are a lot of good ones because it's the Grand Freakin' Canyon).
A weekend with two national holidays means a lot of adventure, and I did that's what I did.
The crowning part of my weekend was a canyoneering and backpacking trek into Grand Canyon National Park with some friends for Presidents Day. Four friends and I descended Soap Creek, a canyon requiring rappelling and climbing to settle in for a night on the beach of the Colorado River.
We left Cedar City at about 9 a.m. Sunday and drove for a few hours to the town if you can call it a town of Cliff Dwellers, Arizona. There really is only a hotel there and a house or two, so not sure if constitutes being a town.
Cliff Dwellers would be a fun day in and of itself, but after playing on the boulders for a few minutes our attentioned turned back to the bigger adventure: Soap Creek and the Grand Canyon.
The route we took into Soap Creek was the north fork of the canyon. It requires rappelling, hiking, climbing, wading in mud up to your knees and a bit of hopping over the boulder fields in the bottom of the canyon.
Canyoneering in the Grand Canyon is a whole new canyon experience. The anchors to hang your life on are scarce, the rappels are huge and you're in one of the most remote areas in the world.
After a short distance of hiking we came to our first rappel, a 95 foot drop from a few boulders high above the canyon floor. We dropped down the rappel into the narrow, slot canyon. The next two rappels were shortly after the first, both about 70 feet tall.
The rest of the canyon wasn't really a hike, because the canyon floor is covered in giant boulders that you have to weave around and over, all the while avoiding the deepest mud pits.
It was awesome!
After a few miles of hiking, the roar of the Colorado River cut through the canyon. And within a few minutes we were standing on the banks of Soap Creek Rapids.
Nothing makes you feel quite as small as sitting under the cliffs of the Grand Canyon National Park. The walls of the canyon are huge.
Then there is the Colorado River. The major watershed of southwest America is powerful and watching the clear, blue water cascade over boulders you feel it.
After enjoying the river, we made camp on the beach of the river, enjoyed the night sky and the laughter over stories and jokes.
And the rest of the photos:
Featured image for home page: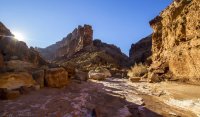 Last edited: