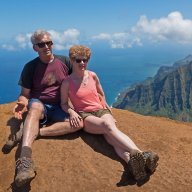 Joined

Sep 22, 2016
Messages

484
Having endured nearly two unbroken weeks of arctic weather up here in Calgary- thoughts turn back to our desert camping and hiking trip in the first two weeks of October. For my wife Jo and I, our annual trip south gives us an extension to summer, as October in Alberta usually brings a definite shift towards the eventuality of winter. After ten desert tours totalling well over 20 weeks of camping and hiking, with a bit of MTB here and there, we still find new places to explore, and old favourites worth revisiting...
After 18 hours of driving spread over two days, we pulled in after dark to one of the many fine camp spots tucked under the cliffs not far west of Goblin Valley. Distant flashes from a storm hitting the Henrys, and a brief sprinkle of rain overnight as we drifted off to sleep had us wondering what the next day would bring.
Fortunately- sunshine!
The days goal was Little Wildhorse and Bell canyons. Unbeknownst to us until arriving at the trailhead- a flash flood had rolled through 2 days before, leaving trim lines 3 feet up in the wash, and a grumbling worker removing several inches of mud from the outhouse. The trailhead register mentioned chest deep water, but we headed up anyway.
After about a km of canyon and one minor pool, we reached what would prove to be our impasse. Wading in to the deep cold water, I realized that it would be neck deep on my 5 foot tall wife. With the cool 10c temperatures and strong winds reaching down into the canyon- we wimped out and backtracked over to Bell.
A few small pools of mud and/or water were easily negotiated in lower Bell, but then a deep pothole was encountered that we couldn't climb out of. Apparently the pile of rocks that would usually aid in this had been washed away in the flood, and a potential bypass looked too risky with everything covered in wet silt. Foiled again- I guess we will have to return!
Next on the agenda were a couple of days in Capitol Reef. We swung off along the way down the Notom road, finding a nice campspot not far from the highway beside Pleasant Creek. Despite being only 100m away from the paved road-traffic was nonexistent overnight, and we were lulled off to sleep by the sound of running water and crickets, waking up to a nice view of the domes of Capitol Reef to the west.
Yours truly at the Fruita overlook along the Navaho Knobs trail. We've hiked quite a bit in Capitol Reef, but it's always worth a return visit.
We had hiked the full Navaho Knobs trail in the past, so decided try another option- up the Ponderosa filled side valley just beyond the overlook to a feature known variously as the Stegasaur, or Sharks Fin.
A brief class 3-4 rock scramble took us to an upper plateau area with great views and some colourful rock.
Continuing on to the saddle below the fin.No Stegsaurii to be found...Sharks Fin seems more fitting.
There are expansive views in all directions from the sandstone highland surrounding the fin, plus some entertaining wandering. We exited back the way we had entered- with the rock scramble descent to the Ponderosa valley proving easy to me with some climbing experience, but a little daunting to my wife. The rope never came out though, and on our way out we scouted what looked like a potentially easier route from just east of the Fruita overlook.
Picking a bag of apples, but eschewing the overcrowded campground at Fruita- we ate dinner by sunset at the "overflow" camp area just west of the park. We've stayed here a few times now, often finding it raked by winds, and sometimes a bit busy, but this night was peaceful all counts.
A Cohab Canyon thruhike, and Cassidy Arch, were already on the "done" list, but not the Frying Pan Trail.
I'd put it in the top 3 in Capitol Reef along with Navaho Knobs and Spring Canyon.
Cohab Canyon from above.
Following cairns through the rolling landscape of the Frying Pan trail.
Rather than hike all the way to Grand Wash and the hope to hitchhike back to close a loop, we backtracked for a different perspective. We met a number of hikers on the same agenda, so if you want to do it one-way, I think hanging out at the trailhead in the morning and arranging a shuttle with other hikers would likely prove easy.
Heading down the east fork of Big Horn canyon, after camping nearby along the Old Sheffield road.
After a few small negotiable canyon sections, and some larger obstacles easily bypassed on skiers left- the most interesting section of east Big Horn continues on uninterrupted.
The terrain alternates between shallow canyon, and wider expanses of very colourful rock.
A bit of welcome shade on the first really warm day of our trip, the previous few days having had cooler than normal weather.
The canyon continues on down towards Harris Wash for a km or two in more or less this fashion- sometimes quite narrow, but mostly just easy walking.
Finding color in more than just the sandstone on the return up-canyon. The upper stretch of wash seemed a bit tedious and much sandier than in the morning (as they always do!)- but this was a a first rate hike in our opinion, and one that we would definitely do again.
View from near camp along the OSR. Spot Phipps Arch?
A great place for morning coffee!
Driving a bit further out the OSR- we started out across sand, then onto slick rock benches with the aim of looking for the fabled "Volcano" aka the "Cosmic Ashtray". We never did get there though after a combination of errors- starting with me forgetting the GPS, followed by doubts about our routefinding and thus veering too far to the east. Climbing a slick rock dome gave a glimpse of the Volcano a km to the SW, but then Jo tweaked her knee on the descent- making a retreat the wise option.
Nonetheless, it was an enjoyable day of rambling through some fine scenery and colourful rock.
A detail of a particularly interesting section.
With Jo's knee feeling much better after a nights rest, we descended into Fairyland at Bryce the next morning. To be continued.....