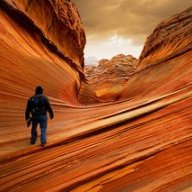 Broadcaster, formerly "ashergrey"
.
Joined

May 5, 2012
Messages

1,724
I've been waiting for Canon to update the EOS Remote app for some time, since I on occasion use it with my 6D. Well lo and behold, it appears Canon has abandoned it.
But, in its place, they've launched "Camera Connect".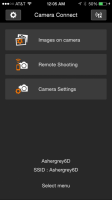 It's functionally the same as EOS Remote, but adds the ability to control drive mode, incremental manual focus, autofocus type and other parameters. You can also use the phone to set the camera's date and time (matching it to the phone's network-supplied signal) which I imagine could be useful to people who travel across time zones frequently.
Perhaps the two most useful features I noticed are 1) you can now enable a second button for auto-focus independent of the shutter control...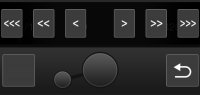 Independent auto-focus button and manual focus controls
...and 2) you can use the app as a wireless trigger WITHOUT having to place the camera in Live View mode.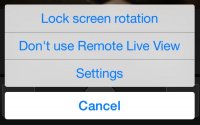 Don't use Remote Live View toggle control
The first feature allows you to tap and hold the auto-focus button to achieve focus. If you're not happy, release the tap and it won't trip the shutter. If you ARE happy though, you can slide your finger to the right onto the shutter button and then release the tap there to take the picture.
The second feature promises to reduce the battery drain penalty from remote shooting using wifi. Instead of using the phone screen as a composing tool, it simply operates as a trigger. But you also retain the ability to adjust all parameters.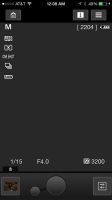 Camera Connect operating in non-Live View mode, with parameters still available for adjustment

The phone screen (or a tablet, even better) allows for quick focus-checking.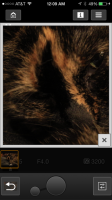 My cat's annoyed face

Other improvements I noticed: full-sized jpg output (RAW files are still automatically downscaled before wireless transfer to a connected device), orientation lock.
So what's still missing? I didn't see a WB adjustment. There's no display of histogram available in Live View mode. Using the camera in bulb mode still requires you to hold the on-screen button, instead of acting as a toggle the way an IR remote does. The non-Live View mode begs for intervalometer functions but none are present. And the App Store page shows that the Camera Connect's feature set is not uniform across all of Canon's wifi-capable cameras.
The old EOS Remote app could be painfully slow at times. Time will tell if Camera Connect is at all improved. But at least it shows Canon hasn't given up on the concept altogether.