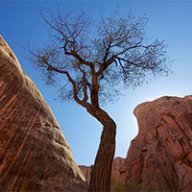 Joined

Aug 9, 2007
Messages

12,940
As sad as it makes me, I'm in the market for another lens. I loved the Sigma 17-50 I bought but since they can't seem to give me one that works, it's time to move on to something else. The Canon equivalent is $1100+ and so I'm thinking about other options. I was taking my portraits at 50mm so I figure I could get away with shooting them at 70 if I were to pickup the 70-200 to replace it. It wouldn't be good as a walk around of course but at least I'd have something long and really high quality.

So the debate now is whether to get the f4L IS USM or just the f4L USM (No IS). Price difference is significant, $719 vs. $1273. Weight difference is only a couple ounces. There's no way I'd even consider the f2.8 version.

So any thoughts on that? Also considering just going with the 24-105 f4L but that is not wide enough for me to leave it on (crop sensor) and doesn't have the benefit of being extra long for wildlife, etc.