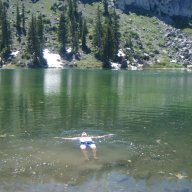 Joined

Apr 27, 2016
Messages

483
I am planning on taking some family down to the Escalante area in early May. I was going to get campsites at Escalante Petrified Forest State park but it looks like the sites are reserved for when we plan to go.

There will be 10 people 2-3 vehicles and 3-4 tents. I want to limit the stress of driving around looking for suitable campsites, I was hoping some of you may have suggestions. The plan is to spend most of the time exploring areas off Hole-In-The-Rock-Road and hiking Bighorn Canyon from the Sheffield Road side. I have been looking at satellite images of the Sheffield road but haven't really seen anything close to the Bighorn Canyon trailhead that jumped out at me.

I am hoping some of you that have spent more time in the area can point me in the right direction. My wife and I plan to go down in March as a scouting trip and to try to do the planned hikes once by ourselves to make the trip with family as smooth as possible.