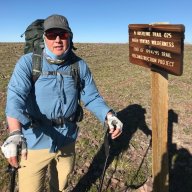 The mountains are calling and I must go
.
Joined

Mar 31, 2013
Messages

1,016
I'm working on my first overnighter in Canyonlands this spring.

So I looked up available camp sites in the park. Nothing in February or March, except for
the random Tuesday.

Wondering if there is any out of the park, but near by places to camp?