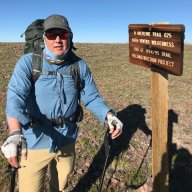 The mountains are calling and I must go
.
Joined

Mar 31, 2013
Messages

1,018
I'm looking to next year's big trip and have decided to make a run at
King's Peak again.
<iframe width="100%" height="500px" src="
Click here to view on CalTopo
"></iframe>
My plan is after summiting Kings to follow the Highline down into the
what I think is the Yellowstone Basin, eventually go over Smith's Fork
pass go into Red Castle.
What I'd like to do is camp somewhere along the Smith's Fork Pass
trail.
It appears to be all above the tree line. I'm wondering if there are camp
sites along the trail and how accessible is water?
Thanks.
Last edited: