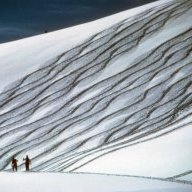 Joined

Oct 17, 2012
Messages

367
This camping trip was destined to happen sooner or later. (A little insight): 2 years ago we were planning on spending time at Starr Springs CG (at the base of Mt Hillers in the Henryy Mts) after a beautiful week at House Rock Valley rd on the Utah /AZ border. We drove up Cottonwood rd to Escalante, stayed a night, and then realized the next day, that winter had moved back into the high plateaus. This in early May. We figured we may as well stay around Escalante and stay out of the snow in the higher mt areas. Worked out fine for 3 more nights, until we got chased out of Escalante with a 10" snow storm..... following a plow truck over Boulder Mt. We couldn't even see the Henry's on our way home except for a peek now and then of very snowy covered mountains. Oh well.....another year it would have to be.
OK.... (the present)... Steamboat Ski area just closed for the season....Let's go Camping!!!!!! I talked to the BLM guys in Hanksville and they told me the campground at Starr Spgs has the water turned on and the leaves are just starting to pop. I'm saying.. this should be a killer basecamp.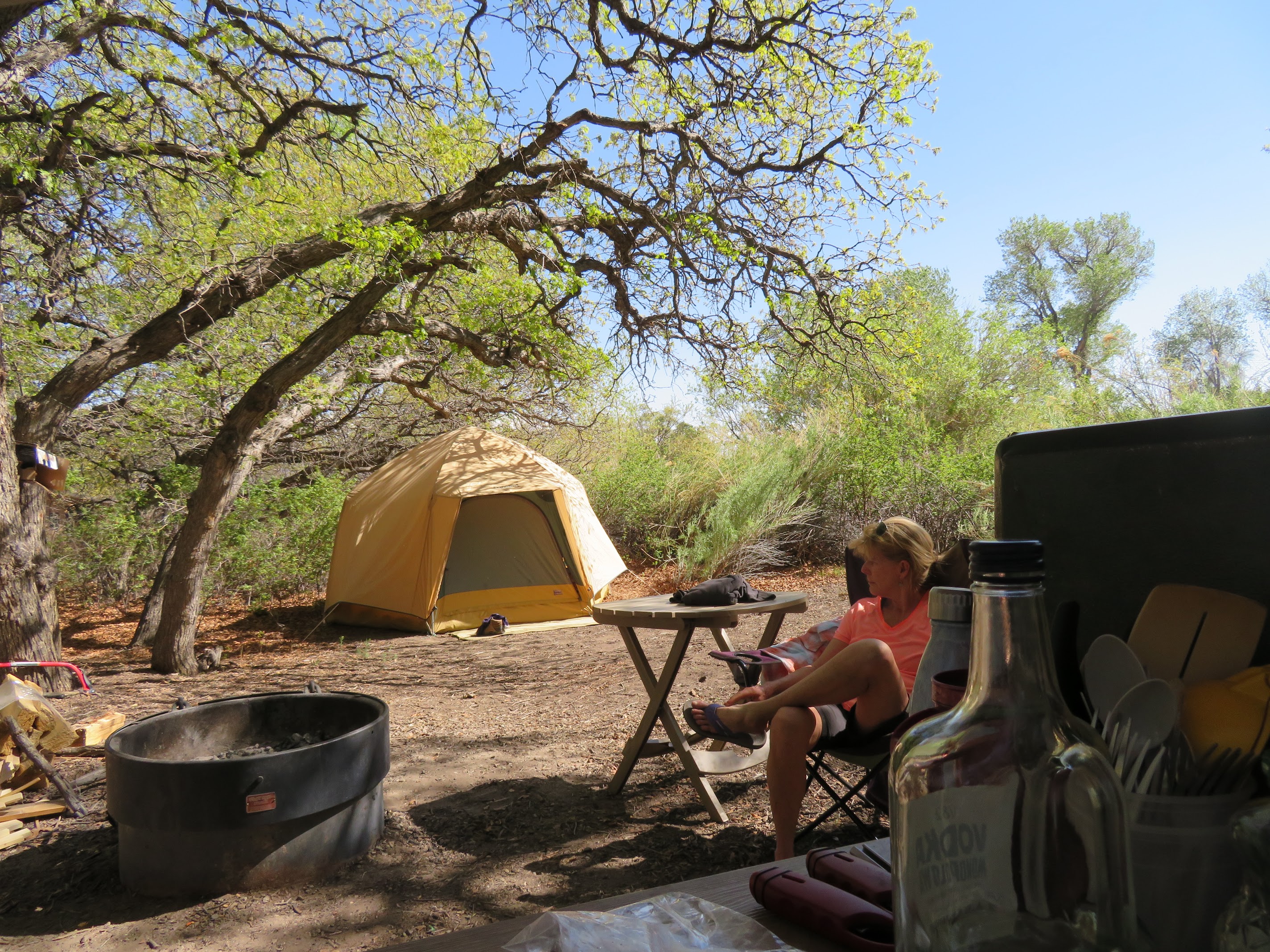 This place is right at the base of Mt Hiller's above all the Trachyte Creek tributaries and a short drive to the Irish Canyons on UT95. Plenty of different day hikes to do, and then come back to a nice comfy camp. Anyway that seems to be our style these days. Less backpacking and more day hikes.
We decide to leave on a Monday morning from Steamboat Spgs CO. Roughly 7 hours later, My wife and I, and our friends Ben and Tinker are setting camp up at Starr Springs. One thing I notice on the way in, is how little snow is on the peaks. Mind you Mt Ellen and Mt Pennell are over 11'000 feet and Mt Hillers 10'700. I'm thinking maybe we ought to try for a summit one day instead of the many slot hikes in the area. How often are you going to get these snowless conditions (late April) this early in the spring?
Mt Hillers peak is actually behind this peak.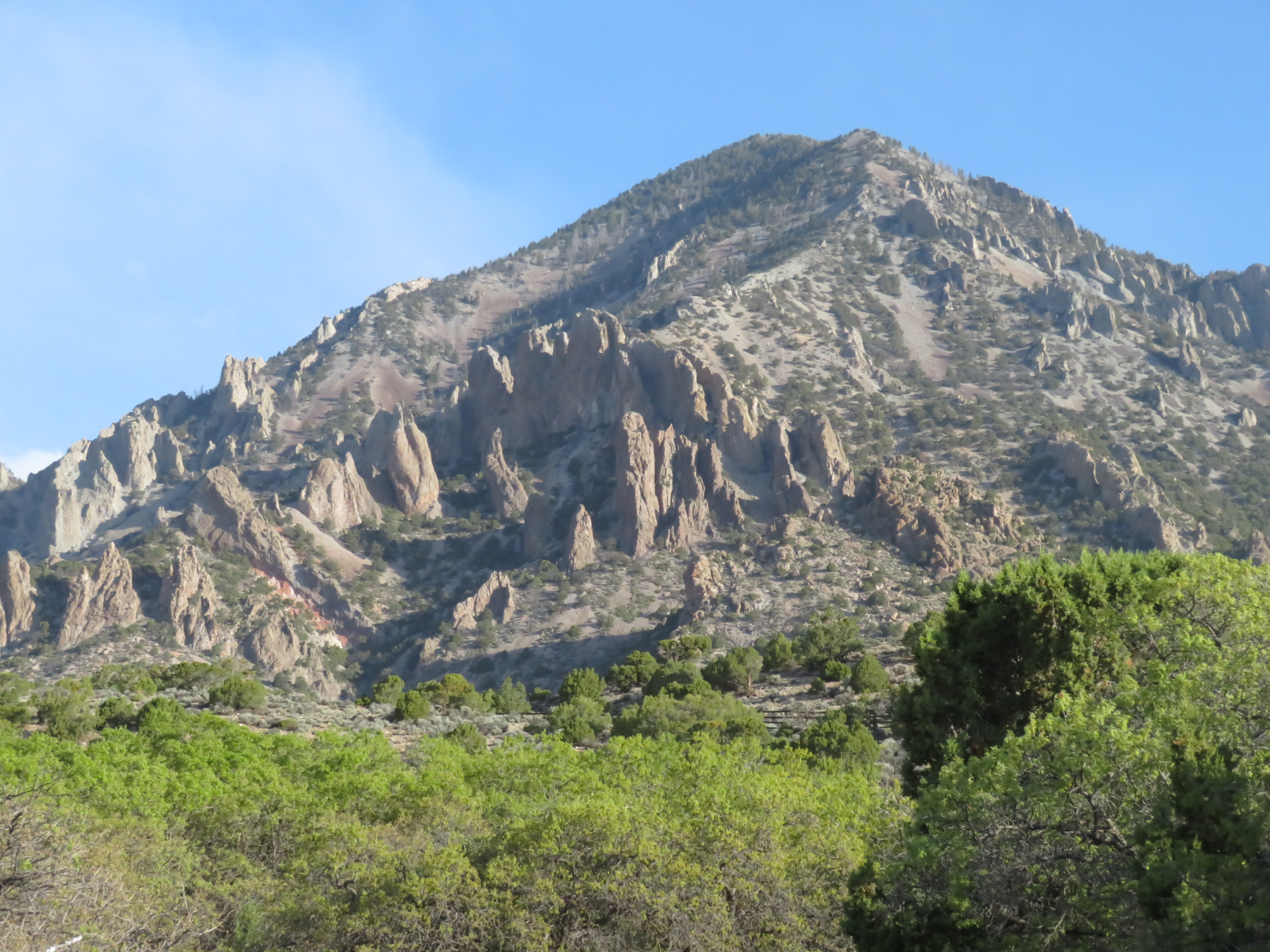 Our plans for our week in this area, are to hike Trachyte Cr, Maidenwater, Trail, Swett, Woodruff, Hog and the Irish canyons. And maybe get on top of Mt Ellen. Nothing technical for this crew, although I did bring a rope to get us over or down any large obstacles. What is really cool about this place? Is how often we had driven by without ever realizing the secrets that lay just off the roads in this area.
We decide to go easy on the first day and checked out Hog Springs and Upper Trachyte creek.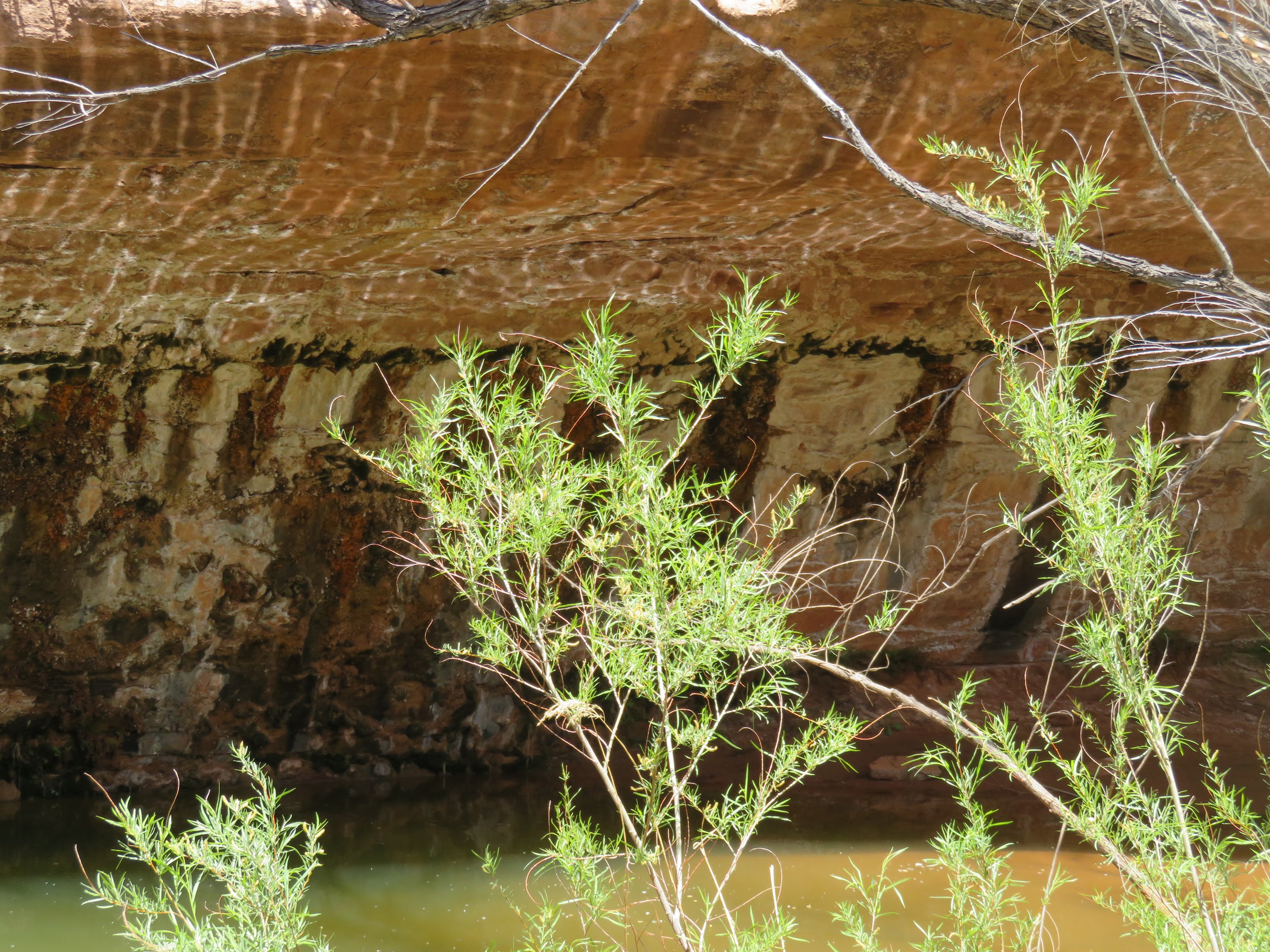 How nice is it to be in shorts and short sleeve shirts after a long snowy winter! And slickrock? and leaves on trees? Gotta love it! A nice dinner and campfire, a few cocktails and a plan for the next day. The Irish canyons.
Starting at Shillelagh
Over to Leprechaun
Great day in the canyons. After dinner......A hike above camp for a little bit of Henry Mt evening light. Mt Holmes and Ellsworth
The next day we spent a short day in Swett Canyon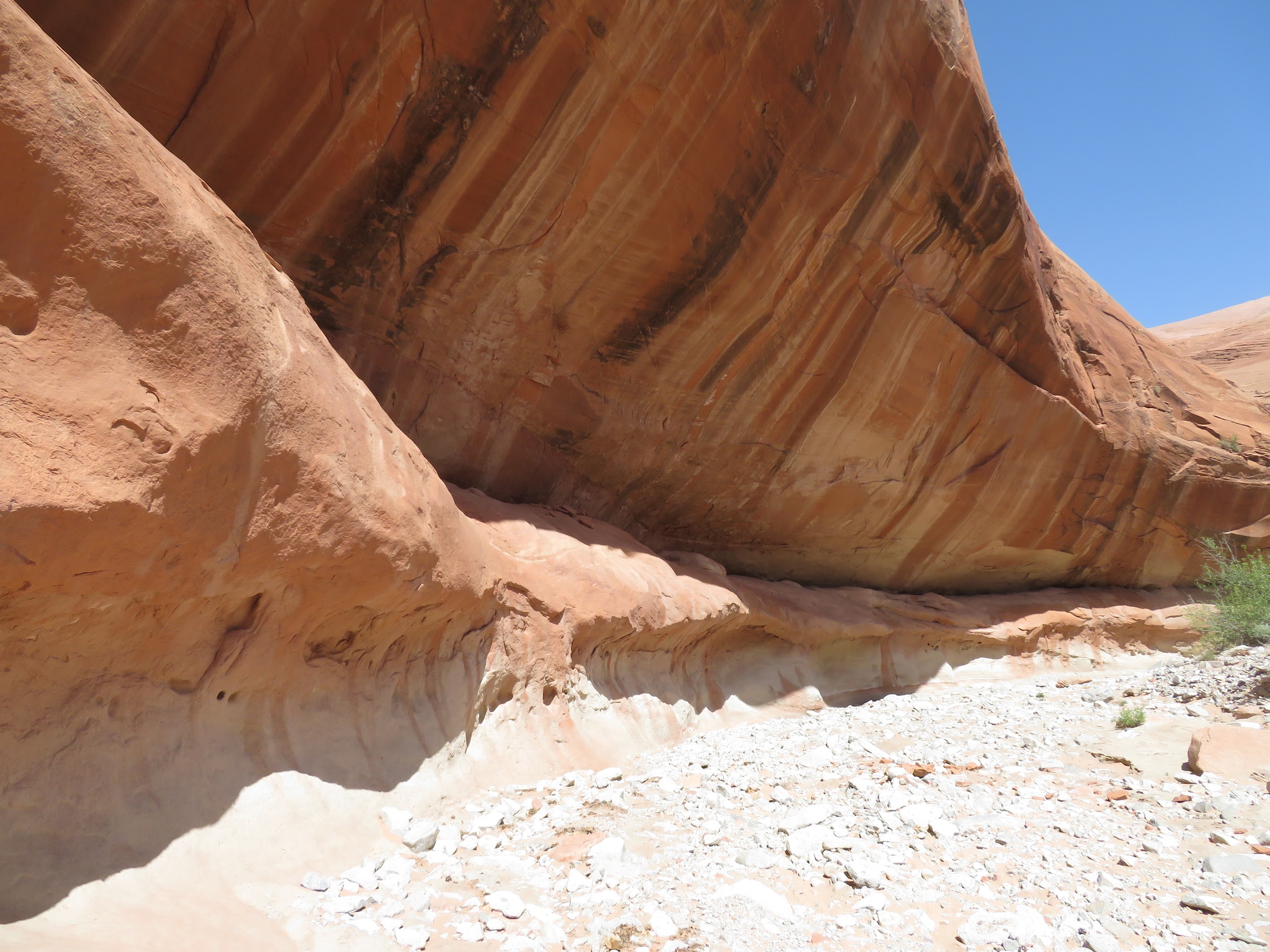 The next day the plan was to do Maidenwater to Trachyte and then back up Trail. Oh well.... it didn't quite work out that way. But it still ended up being a worthy day of hiking.
The hole under the highway
Some pictures near camp. Mt Hillers and the base fins.
some other photos from the Irish canyons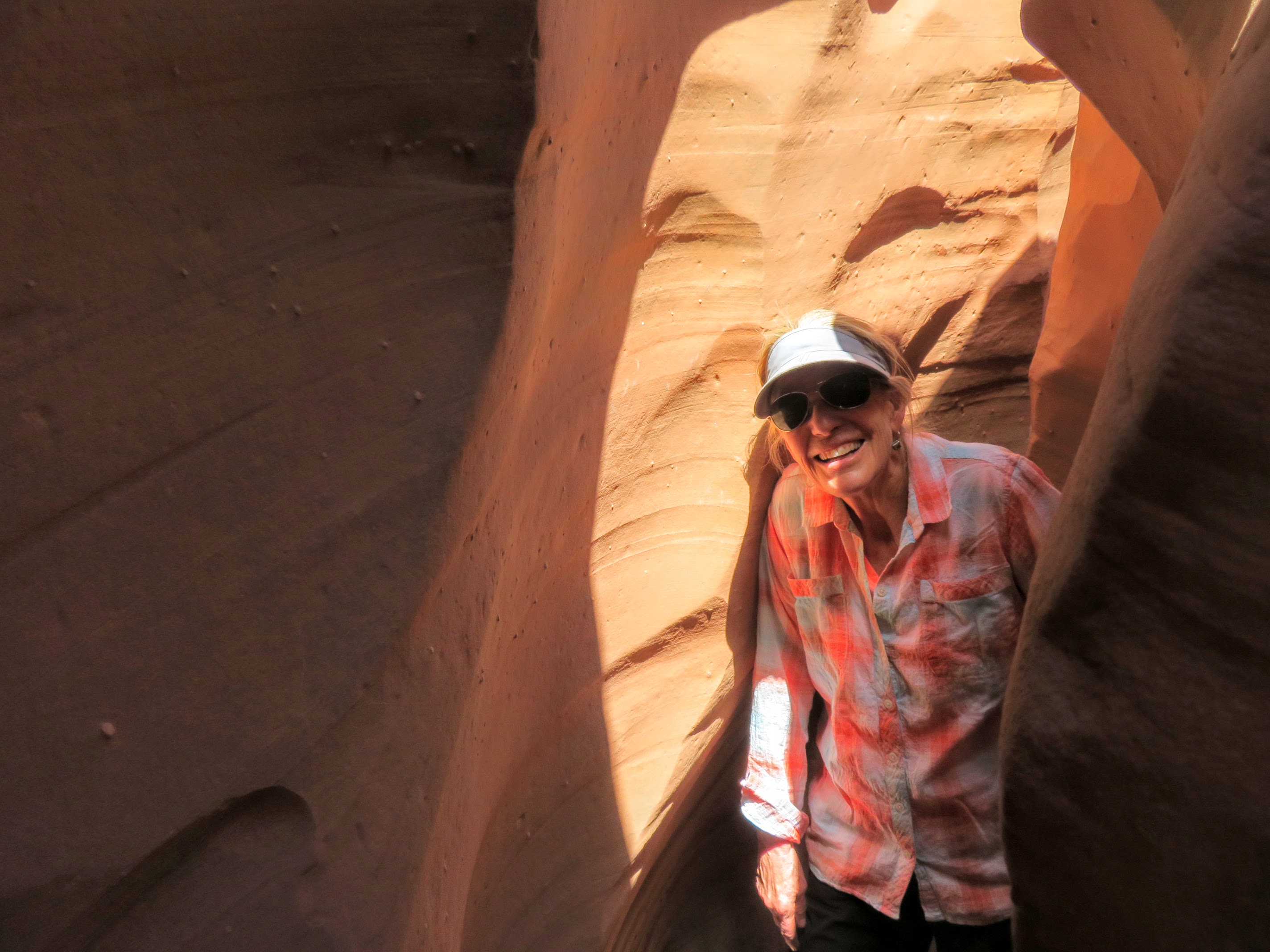 The whole area of the Henry Mts
A hike up the north side of the highway up Maidenwater Springs
Last shot of Mt Hillers from camp
It's been a great week camping at Starr Springs. Nice clean water coming from the springs meant we had plenty of fresh drinking water and fully filled solar showers everyday. Exceptional dinners every night, plenty of cold beer, and the occasional cocktail, along with a nice campfire. My six man Eureka tent (you can actually stand up in) with big foam pads on top of long Thermarest pads, made for very comfy sleeping conditions. Except for a few noisy windy nights, weather was very steady, and the days more than comfortable for hiking. Mt. scenery and trees almost made it feel like you weren't in the desert. Only to prove you wrong, when you drop back down to hwy 276 and UT 95. So..... What happened to our summit attempt on Mt Ellen?
There is a Henry Mt scenic drivable loop. This is the BLM description:
The Bull Creek Pass National Back Country Byway can be accessed from Utah Highway 95, twenty-one miles south of Hanksville, Utah, or from the south on Utah Highway 276, five miles south of its junction with Utah Highway 95. The byway covers sixty-eight rough, slow going miles. Allow 6 to 8 hours to complete the loop.
I wish I
got to read this before we started, since
I chose to enter the road from the south on 276. The goal was to reach Bull Creek Pass at 10'485 elevation, then park and ridge walk up to the summit of 11'522 Mt Ellen. Perfect high country adventure for us senior citizens. What I failed to figure out, was that the ride from the south entrance would be over 4 hrs + up to the pass (8-10 mph avg?). And.... for the first 30 minutes heading up Trachyte Creek, we were getting passed by 4 wheelers and getting severely bounced around on this twisty, rocky rd. When we got to the first sign showing the road and milages still to the pass, a mutiny had transpired. I was told in no uncertain terms, that this vehicle was turning around. (I was told later by BLM guy to go in from the north UT 95 side.... 2 hrs to Bull Pass instead of 4-1/2. So he says.). Our new plan, (I was told) is to go back to camp, get coolers and drive down to Ticaboo and get refilled on ice, and gas up the cars. Drive down to Bullfrog, since we had our lifetime Amerca the Beautiful Parks pass, and also get a free hot shower. Not my idea of a hiking day but I was no longer in charge. I have to admit the HOT shower made it all worthwhile, even though I was taking a solar shower at camp every afternoon. The snowless conditions on the Henry's made me feel like we missed a golden opportunity to hike them in April. But ...I know we will be back with a better plan.
It's one week later on Monday, and we plan on moving camp over towards Blanding so we can visit some of the many ancient ruins and art sites in Cedar Mesa, Comb Ridge and Butler Wash. I know just enough about this area to get us lost and also have some Kelsey books to further confuse us. Besides.... we need to reprovision up on food, gas and ice. This really is a stunning ride to Blanding on the scenic UT 95. (So much camping potential for the future) Original plan is to set up a camp down in the Combwash. Turns out to be very, very windy and blowing sand down there. So we continue on to Clarks Market in Blanding for more food and ice, then stop at the Visitor center to find out about weather. Next day looks ok, but the future looks like we may be getting winter back soon. We make a decision to camp at Devils Canyon CG just to the east of the Abajo Mt range. Next day's plan is to head back to Cedar Mesa, and get over to the rim on Road Canyon, and hike to the Citadel ruins. Also stop at Mule Canyon on the way back, for a look at House on Fire Ruin. The day is a lot cloudier than was expected and a few raindrops here and there, but we make our way into the rim of Road Canyon for the Citadel hike.
the ridge across to the Citadel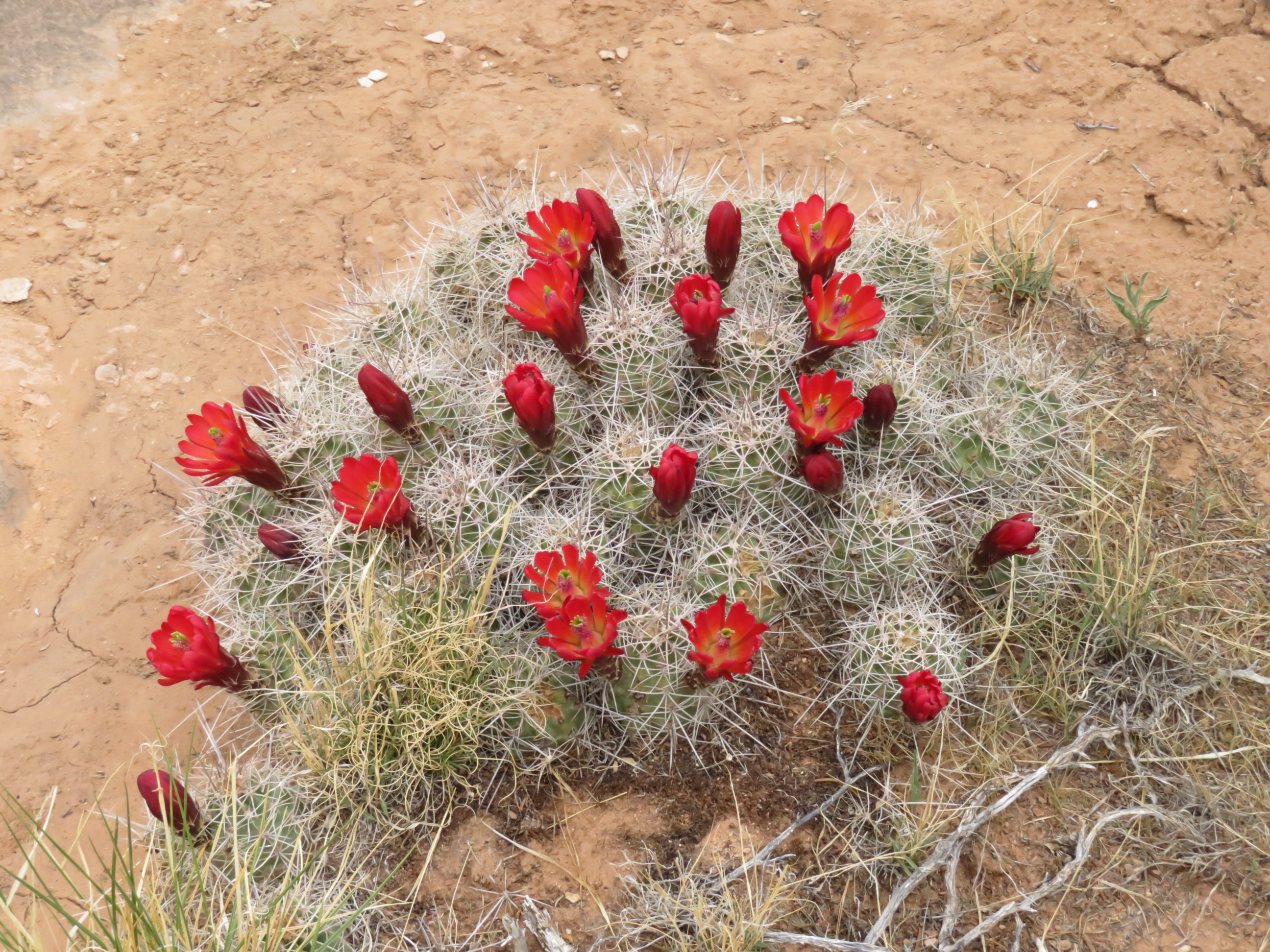 Mule Canyon House on Fire
An excellent day of ruins and hikes. Looking forward to a few more days of Butler Wash and Comb ridge before we head back home. Windy camp that evening and forecast doesn't look too good for the next couple days. We manage to ride out a wet day, and hope for the best, but now we are contending with snow. (try and get 2 weeks of perfect weather between April 15 and May 15.. never seen it yet!!!) We see a truck pulling past our camp site and he pops his head out the window. "Roads are fucked!!! I'm packing it in here for a day or two". That's when we we decide to say "Oh well" and pack up all our stuff in a lovely snowstorm. Will definitely need to come back to Comb Ridge and try again. The Henry's too!! Maybe this fall. Still.....all in all, a very worthy desert trip. Lot's more still to see.
Aren't spring camping trips fun? You Bet!!
Last edited: