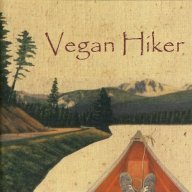 Joined

Jul 5, 2014
Messages

2,099
I apologize in advance that this trip report ends in a weird place, both literally and figuratively. I wasn't sure whether to write all of this up since it's not all hiking related, but I figured there are a lot of dog lovers on here since we have a thread devoted to pictures of our dogs that's currently 24 pages long.
Memorial Day weekend kind of crept up on me this year. I didn't even realize it was a holiday weekend until Tuesday of that week. Without really having any thought out plans, I told my wife I'd be heading to the Adirondacks for 3 or 4 days since I'm working on the
ADK 46.
I mapped out a sweet 3 night loop and was ready to rock and roll, but then the next day, my wife decided that her and our dog Joey would join me. While, I love it when they join me, I knew that 3 nights roughing it in the ADK high peaks wilderness was not what they had in mind.
Knowing they'd prefer car camping, shorter, easier hikes, and town with plenty of dog friendly restaurants, I figured Stowe, Vermont would be perfect. So I booked a campsite for 3 nights at Smuggler's Notch State Park right outside of Stowe. We left Thursday evening as soon as we got home from work and drove to Killington, Vermont where we crashed at small hotel. Friday morning we drove scenic byway 100 from Killington to Camel's Hump State Park which winds along the edge of the Green Mountain National Forest. This is one of my favorite drives in the northeast. The last time I was here was during fall foliage, but even in the summer it was beautiful; classic New England. I'll spare you the details on all the wife friendly stuff and just list it here to give you the gist (antique shops, barn sales, stopping at the Ben and Jerry's factory for their vegan dairy free ice cream, farmers markets, etc.) The only thing you need to know about that stuff is that if you're ever in Vermont and see a farmer's market... stop and look for some Maple Cotton Candy. You'll thank me later.
We came across some nice waterfalls, some were visible from scenic byway 100 and some were a short hike of a mile or so. It was pretty hot out so Joey enjoyed sloshing around the water and doing a little bit of swimming.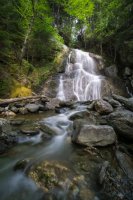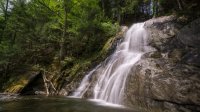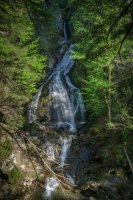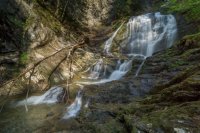 So about the hiking, Camel's Hump is the second highest mountain in Vermont and it's located just north of the Green Mountain National Forest. There are a few approaches to the summit. We ended up taking the Monroe Trail which approaches from the east and eventually converges with the Long Trail. My gps logged us at a little under 7.5 miles. Once you get above tree line, you can see the Adirondacks in NY to the west, the White Mountains in NH to the east, and the Green Mountains of VT to the south. As with most hikes in the northeast. You start in hardwood forest, then ascend into a mixed boreal zone, then an alpine zone and some occasional arctic zones if you're on a tall enough mountain.. It might have just been the longer approach of the Monroe Trail, but it felt like we were in the boreal zone forever.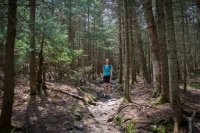 Eventually the pines started fading into krumholz and some nice views opened up.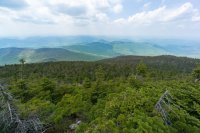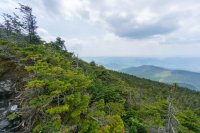 The summit of Camel's hump provided 360 degree views. Here are some shots in a few different directions.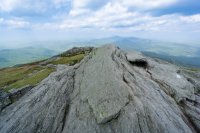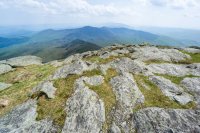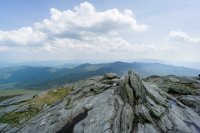 We ate lunch on the summit. It was a warm day so Joey enjoyed feeling the breeze blow his ears back.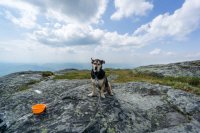 Tyne and Joey finishing up lunch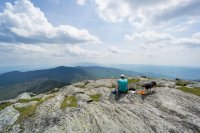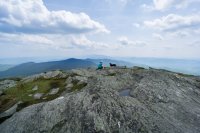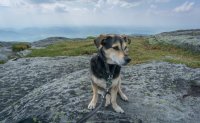 Later in the day we arrived at Smuggler's Notch State Park and set up camp. It was a nice secluded spot. There are only 20 campsites here and they are pretty much out of view from each other. The downside of that privacy is that we were about a 50 yard walk through the woods from the car. There were chances of thunderstorms forecasted for pretty much every day, so I brought two big tarps and hung a ridgeline over the tent with enough room to pull most of the picnic table under need be. I hung another ridgeline and tarp high over the fire pit so we'd still be able to sit around the fire if it rained. It turned out not to rain at all, but trust me, had I not hung the tarps it would have rained for 3 consecutive days.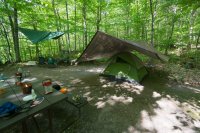 Another hike we did was of Mount Mansfield, the tallest mountain in Vermont. We totally cheated though. Joey is getting up there in age and Camel's Hump was pretty difficult for him, so we hiked to the summit of Mansfield from the Mt. Mansfield Visitor's Center which is on one of the false summits that the scenic toll road takes you to. From there to the true summit it is only a 4.2 mile trip to the summit and back and climbs less than 600'. This route follows the Long Trail, the oldest long distance hiking trail in the United States. The Long Trail starts on the Vermont/Massachusetts border and goes close to 300 miles north through Vermont to the Canadian border. The most popular beer in Vermont is called Long Trail Ale.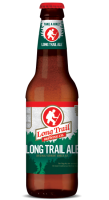 Anyways, here are some pictures hiking the Long Trail on Mt Mansfield.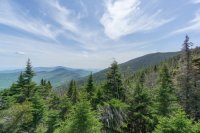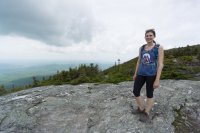 On our way to the true summit ahead (referred to as the chin). The false summit we started on is referred to as the nose. The bump you see before the summit here is referred to as the lip and the bump after the summit you can see here is called the adam's apple. As you might have guessed it's because the side profile of Mt. Mansfield looks somewhat like the profile of a face looking at the sky (I personally don't see the resemblance).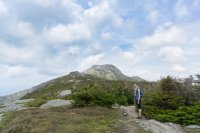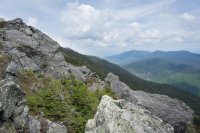 Getting closer to the chin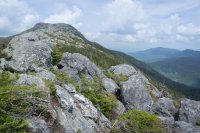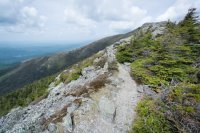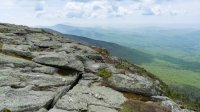 Looking back in the direction we came from.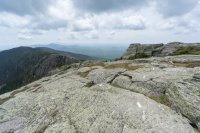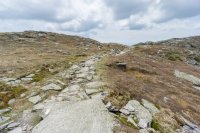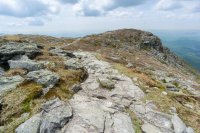 The view looking north from the true summit of Mt. Mansfield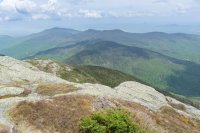 Heading back to the Visitor's Center on the nose. I believe that's the lip in the picture below.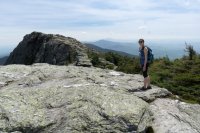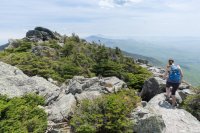 Okay so this is the part I wasn't sure whether to include. There is a place near St. Johnsbury, Vermont that Tyne and I have both wanted to visit for a while. It's a place called Dog Mountain. It's not much of a mountain, in fact it's actually a farm on a mountain. Dog Mountain was created by the artist Stephen Hunick who was a woodcarver and created wood block prints. His art was based around his love for dogs, particularly his black lab Sally. Stephen Huneck loved dogs so much that he created a haven for dogs on his farm and named it Dog Mountain. Dog mountain has hiking trails, a pond for dogs to swim and play and dogs are not required to be leashed anywhere, including his gallery and workshop. Perhaps the most special thing that he built on Dog Mountain is the Chapel which is a solemn place for people to mourn the souls and celebrate the lives of the dogs that people have lost. The Chapel is covered with pictures and letters from people to the dogs that they have lost. Stephen Huneck suffered from life-long depression (which is hard to believe when you look at his uplifting art). He committed suicide and his wife Gwen kept Dog Mountain open to the public in memory of Stephen. Unfortunately three years later, Gwen took her life as well. Dog Mountain is still open to the public and is run by friends and volunteers. You can learn more about this special place on the Dog Mountain website:
http://www.dogmt.com/home.php
Notice the dog door next to the human door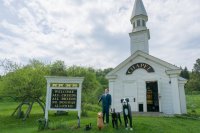 If you have ever loved a dog, this place is almost overwhelmingly emotional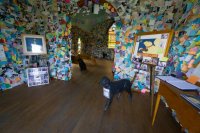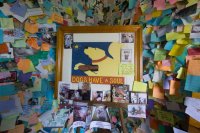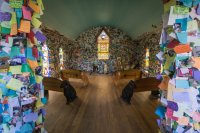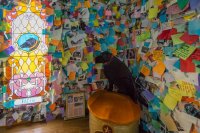 We spent quite a while reading some of the letters on the wall.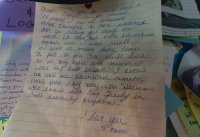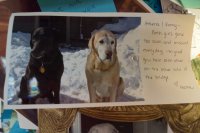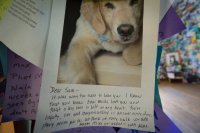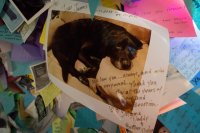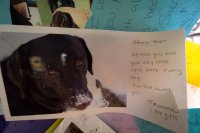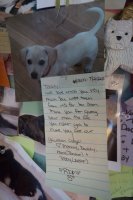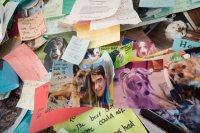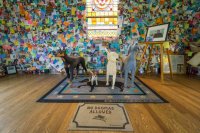 After spending some time in the Dog Chapel, we checked out the Gallery, dog play areas, and took a trail to the top of Dog Mountain. It was hard not to look at Joey a little differently. My wife kneeled down and hugged him several times as we walked.