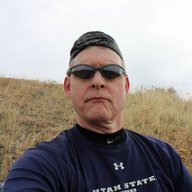 Joined

Dec 23, 2013
Messages

3,434
On September 10th, I headed into Yellowstone for a four day backpacking trip to Cache Creek with three mates. After setting up a base camp at campsite 3L2, we completed two day hikes: one to Wahb Springs and Death Gulch, and a second to the Opal Creek Drainage, located on the west side of the Lamar River.
The first three days of our trip were spectacular weather wise, but on day four, smoke from fires in California and Oregon moved in, which cut visibility substantially.
On our first day hike, we decided to forego the Cache Creek Trail, and instead hiked directly up the creek bed to Wahb Springs and Death Gulch. Along our way, we ran into three bull Bison that caused us to get our shoes wet in the creek in order to avoid them.
Our second day hike took us to Opal Creek where there turned out to be some formidable bushwhacking through the drainage that took us some time to get through. We had hoped to find the old trail up Opal Creek and onto the Mirror Plateau, but alas we ran out of time before having to head back to camp, so I'll have to keep that on my bucket list for a future trip.
It's always a pleasure to be in Yellowstone in September, with temperatures cooling and the elk bugling through the night. We also heard coyotes yipping at night, and on the last day, I got to enjoy watching a Pine Marten watching me, going from tree to tree as I was taking down my tent.
Day 1 - To campsite 3L2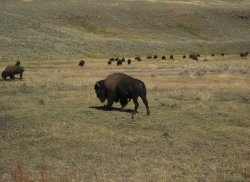 Plenty of Bison as we near Lamar Valley and our trailhead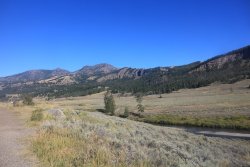 View from the Soda Fork Trailhead in the Lamar Valley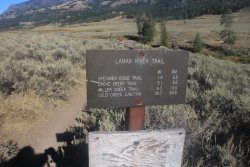 Mileage sign at the trailhead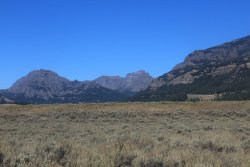 A look up the Soda Butte Creek Drainage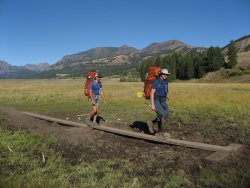 On the trail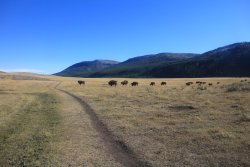 A common occurrence in Lamar Valley - Bison force us to leave the trail. Or maybe, just maybe, I should just use my Scatman Bison
whisperer skills to lull them into a sense of safety as we then pass through the herd. Hmmm, tough choice.


Rollin' rollin' rollin'
Rollin' rollin' rollin'
Rawhide

Move 'em on, head 'em up
Head 'em up, move 'em on
Move 'em on, head 'em up, rawhide
Cut 'em out, ride 'em in
Ride 'em in, cut 'em out
Cut 'em out, ride 'em in, rawhide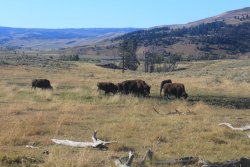 Getting a drink from a marshy area to the east of the trail.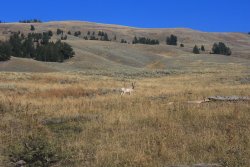 Bison aren't the only inhabitants of the valley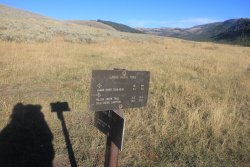 Arriving at the Cache Creek Trail junction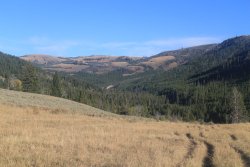 Beginning our descent into the Cache Creek Drainage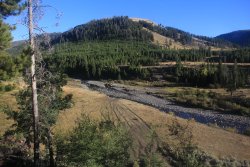 Cache Creek and multiple Bison trails
Elk rack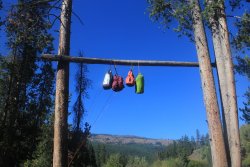 A gathering at the bear pole
Day 2 - Day hike to Wahb Springs and Death Gulch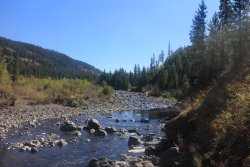 The view up Cache Creek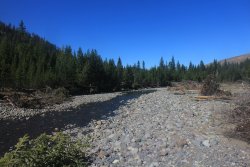 More Cache Creek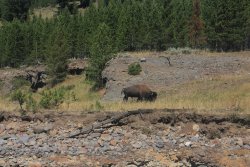 One bull Bison, in a group of three. They forced us to cross the creek.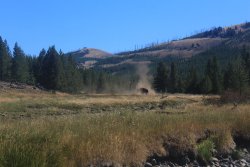 The furthest upstream bull had to wallow for a bit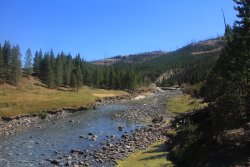 Approaching Wahb Springs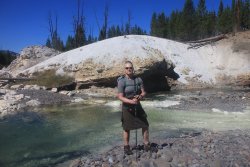 At Wahb Springs with wet feet.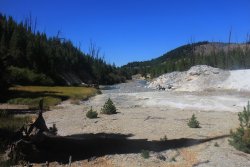 Wahb Springs from another angle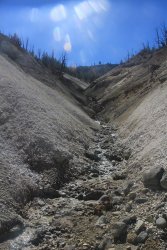 Death Gulch - enter at your own risk!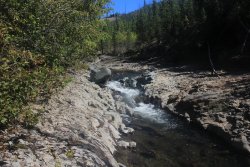 Small cascade on Cache Creek above the springs and gulch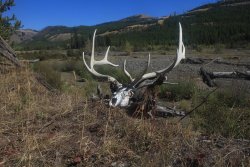 Elk skull and rack on Cache Creek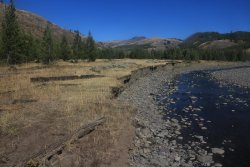 We continued up Cache Creek for another mile or so before returning to camp.
Day 3 - Day hike to Opal Creek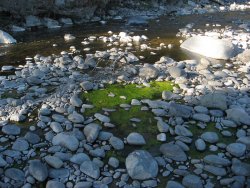 Cache Creek below the thermal area and a major Bison crossing was not the best water source.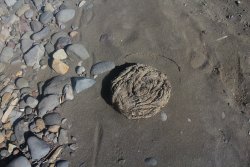 It took all of my will power not to step in this.
For all you "first timers" out there this is best to be avoided.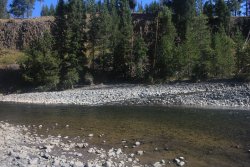 The confluence of Cache Creek and the Lamar River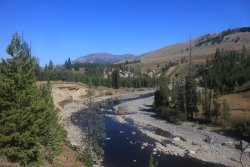 A nice view looking down on the Lamar River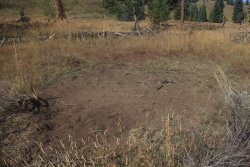 A buffalo wallow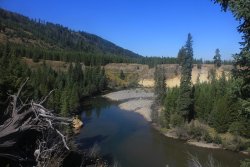 The Lamar River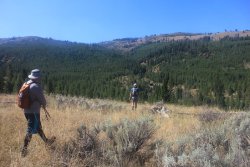 About to drop down into the Opal Creek Drainage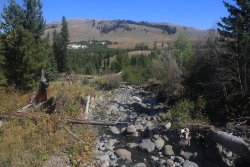 Opal Creek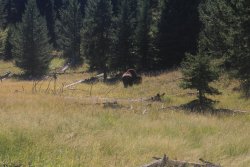 Another big fella on our off-trail hike
Day 4 - Return to the Soda Fork Trailhead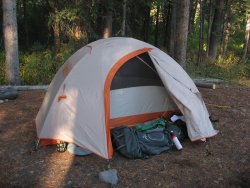 The Scatman's tent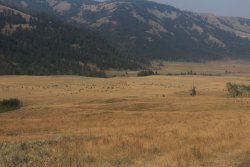 Some of the Lamar Herd further out in the valley this time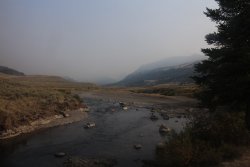 A smoky hike out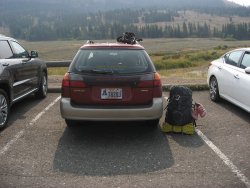 And now back at my vehicle and onto another four day adventure to Heart Lake with @TractorDoc.
The End