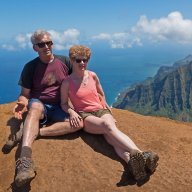 Joined

Sep 22, 2016
Messages

495
Spring seems to be here in Calgary, with MTB season beginning, and the prairie crocus blooming on sunny hillsides in our local natural area park. And, then there are those reports from the desert SW- we are already looking forward to our October trip south! But, in the mountains along the divide- it is still very much ski season.
It has been a challenging winter in the Alberta backcountry, with a shallow, weak snowpack that often offered up little in the way of enjoyable skiing. Thankfully, it was a decent year on the cross country trails. When the snow finally did really come on in March, this was the result-
In this historic avalanche cycle- slides were running larger and further than in recent memory, taking out mature timber and even creating some new paths. By last weekend, things had begun to settle down somewhat, and we felt safe enough to ski tour to Burstall Pass- a well travelled winter and summer destination in Kananaskis Country, along the border with Banff National Park.
The route starts as a rolling old logging road.
After 3.5 km, the road ends, and the scenery expands as the route crosses a lake, and then the outwash gravel flats below the Robertson Glacier.
A zoomed in view of the Robertson Glacier- a popular ski trip as well, but not today with the dangerous avalanche conditions still in effect.
After climbs up two forested headwalls, with a meadow in between that was threatened still from above by a massive slide path that had only partially released, but was mitigated a bit by deeking into "safer" glades of larch trees at the lower margin- Burstall Pass!
A view back east from the pass, to the valley approach route at mid photo.
Although more of a tour, than a turning destination, there is some fine skiing at Burstall. The first pitch of turns in the alpine was pretty good, with a bit of wind and solar affect, but the money slope was found in the more sheltered glades at treeline.
One great run deserves another! The runs are fairly short here- but that just means you get to ski more of them.
A look back at some of our turns, and the loaded slopes in the vicinity of the pass- just waiting for a trigger.
After several runs, we called it a day, before the warm afternoon sun weakened the two slopes looming above the route out ( small wet slides in the recent storm snow had already been observed), and turned the lower elevation snow wet, which would have made the flats along the exit much more of a chore. That's the Chester Lake valley in the background- another very busy venue for both skiing and hiking. With possibly another month left of ski season at higher elevations, depending on which way the weather swings- hopefully a few more great days such as this are in store!
Last edited: