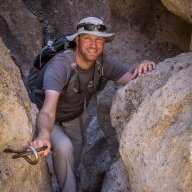 Joined

Jan 17, 2012
Messages

3,367
Over the past few years I've been using a Manfrotto tripod setup that has really begun to frustrate me while using. It is finally time to upgrade. On Friday I received my new ballhead (the new legs are supposed to be her eon Tuesday, so I'll update this thread when they get here and I can try them out) and I got to try it out this weekend....I like it a lot better than my previous setup.
I went with the Acratech GP-s ballhead. What I like about this ballhead is the open design of the ball, which makes keeping it clean and working smoothly a breeze...especially since it will constantly be in contact with sand and dust in the desert.....no grease required. The ball itself has a lot of movement compared other ballheads on the market. The knobs are coated in rubber and all of them are different shapes so they are easy to operate. This thing is light and well-made....everything operates smoothly....and it will easily support 25lbs.
Some other features that aren't as important to me, but might come in handy on occasion are the panning base, the ability to function as a gimball head and as a leveling panoramic head. Lots of features in a small and light package.
http://acratech.net/product.php?productid=76
The last feature of the ballhead I was looking for was that it uses the Acra-Swiss mounting system. After dealing with the loose fitting Manfrotto plates for the past few years, it's nice to use a place system that locks the camera down tight! I also wanted to be able to use this Really Right Stuff L-Bracket.
No more flopping my camera 90 degrees into the notch and throwing the balance of my tripod off-center......now I can just flip the camera on it's side and still have it centered over the tripod. I used it this weekend and it worked great!
http://reallyrightstuff.com/Product...c=B5D2-L:-L-plate-for-Canon-5D-Mark-II&key=it
I'll update this thread in a few days when I get my new tripod legs, but so far things are coming together nicely. Just adding the new ballhead and L-bracket to my old Manfrotto legs has made the setup noticeably better and less frustrating for me.
Of course, right now this is in the trial and error phase to get things the way I want.....so I may make changes in the future.