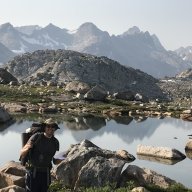 Joined

Mar 1, 2015
Messages

487
I am considering Buckskin/Paria for sometime next year, and have several questions:
When is the best time of year for this? I know that we'll need a plan B in case there is flash flood danger, but I also plan on having a plan B in case there is too much water/mud/cesspools in Buckskin (I've heard a number of horror stories); what month will maximize my chances of success in Buckskin in that regards? I know it's impossible to predict the weather; what I'm looking for here is general advice such as, "Apr/May tends to be drier in there than Oct" or whatever. I usually prefer cooler weather over the heat (mid-April tends to be my preferred time), but my top priority on this trip is minimizing the muck we have to wade through.
Most people seem to go from Wire Pass to Lee's Ferry, rather than from Lee's Ferry to Wire Pass. Is there a particular reason for that? I don't know much about the area (I haven't researched it in depth yet), but it seems to me that there could be several advantages to starting at Lee's Ferry and ending at Wire Pass: you would save the best (Buckskin) for last, you would save the longest/hardest day for last, and you would only have to carry your waste for that last day (correct me if I'm wrong about any of these). Also, from what I understand, there isn't good water in Buckskin, so I'd rather carry that water on my last day when my pack is lighter. I'm guessing most people start with Buckskin because that direction is downhill? (there's not much elevation gain so that doesn't seem like much of an issue to me). I suppose most may prefer doing Buckskin on the first day, when the weather forecast is most reliable; is that the main reason people usually start with Buckskin? Are the views better one way than the other?
I admit that pretty much all of the awesome pictures I've seen online for this trip are from the Buckskin Gulch section. Is it worth doing the entire trip to Lee's Ferry, or should I just do a 2/3-day trip centered around the Buckskin section, and then go do a separate short trip somewhere else? If you loved the rest of Paria Canyon, please sell me on it! If I do this trip, I will do it with a group with multiple vehicles, so the car shuttle shouldn't be an issue.
If anyone has any recommended side trips or any general recommendations for an itinerary, please let me know. I'm looking for 6-13 miles per day or so, depending on the terrain difficulty. I'm tentatively thinking that four full days sounds about right, assuming the conditions in the canyon are reasonably dry (we'll head somewhere else if current conditions/reports are bad); does four days sound about right?
Thanks in advance for any feedback!