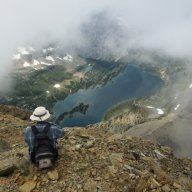 Joined

Feb 7, 2015
Messages

533
With a quick BCP search it looks like six years since somebody did a trip report on spending the day in Buckskin Gulch. So, lets revisit what a unique and incredible visual experience a day hike is in the longest slot canyon in the world. Just think about it. Slot canyons are cracks in the earth. They mostly require equipment, nerve and skills. Sometimes a strong 4WD drive vehicle to access. The part that always amazes me, they can require a strenuous hike and climb to simply access the entry point to the action. But Buckskin Gulch via Wire Pass or the initial trailhead.....you just walk right in and go.
It has been 4 years since I have been there. Mainly because the last time I went in solo I struggled to get up the chockstone in Wire Pass. It was easy to drop in over it but at the end it took all I had to figure out how to get back up it. But this summer I learned that there is a bypass route around the rock if needed. Then there is the water concern. If there is water in Buckskin it becomes a MUCH different experience. One that has value once, maybe twice but with age and experience it would just be a slug to wade thru the muck and snork again. But we haven't had a DROP of rain in these parts since May so I felt fairly confident that there would be no water. I had not excuses not to give Buckskin another run.
I remembered to take a picture of the sky since I wasn't going to see it for a few hours.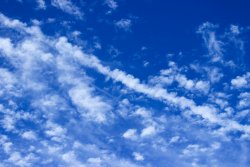 I did not get to try out the bypass because there has been a ladder installed. After a few shakes to confirm that it didn't wobble a crazy amount I got down it. Pretty slick. What I would love to see done.......I am sure this is sacrilege......but this is just an easy, flat walk-in slot that they charge $6.00 for. I would somehow encourage water to go under the rock and wash away the dirt underneath. Then we could crawl underneath. Still an adventure aspect but an 80 year old could get through and it would appear to be completely natural. The rock ain't ever going anywhere. But............the ladder is a nice touch.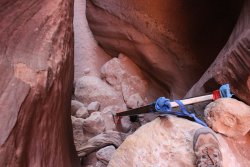 I have include a June 2015 shot of
@Jeffrey Chandler
for a sense of how it has grown over the years.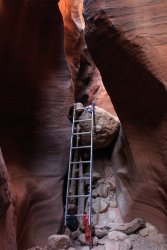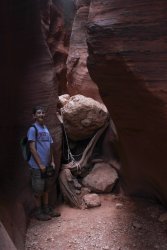 Well heck, let's include a shot from May 2010. That piling up rock crap was antsy.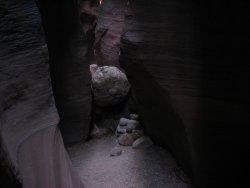 The bypass route goes up and over this spot to the south of the slot.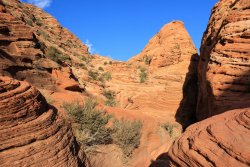 Approaching the confluence with Buckskin Gulch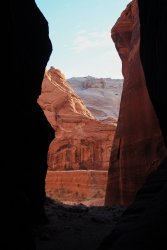 Off, into the wonder of Buckskin Gulch. Every 50 feet is different......some would say every 50 feet is the same. Rock, rock, walls, walls. You have to be open to every, so subtle, change in texture, both in the rock and the lighting. It is a strange mix of sensory overload and sensory suppression. Whatever I am trying to say.......you need to continually be open to going, "wow look at that!"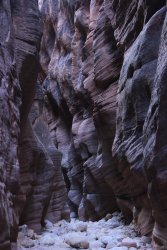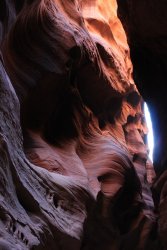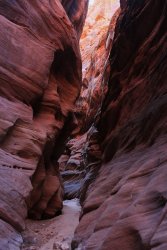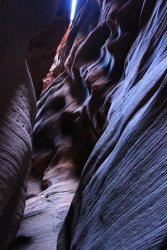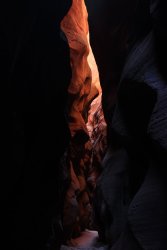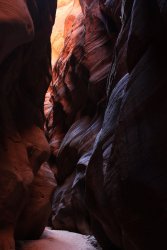 It is hard to see but this is a shot up at the stuck flash flood debris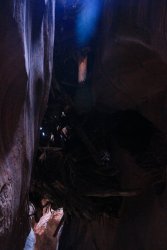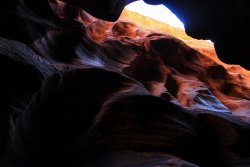 After an hour it opens up into a long wider stretch. This is a stretch with alternating alcoves. You can just envision water smashing to the right then going across and smashing on the left then back again. Speaking of water. You need to have some sense of what the rain possibilities are within a couple hundred square miles. Buckskin is not a place to be if a storm would come through. This would be one stretch of the Gulch that you could probably ride out a flash flood but these are few and far between. I cannot envision any one being in Buckskin and surviving a flash flood unless you won the lottery and just happened to be near a rare hillock. There is only one place you can climb out of the Gulch and odds are you will be hours away from it...if you needed it.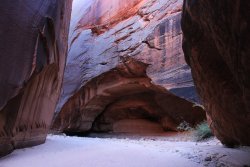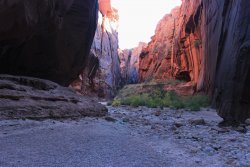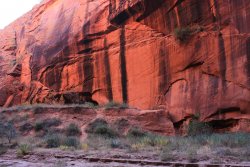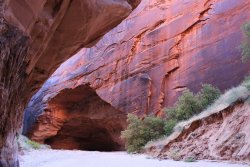 This is just my guess, but if you come back in 100,000 years, this will be an alcove.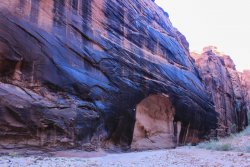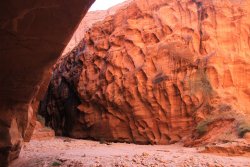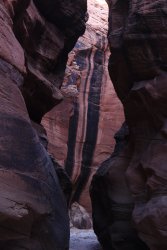 Flat walls are rare but epic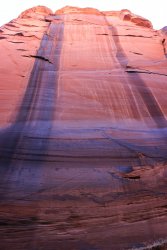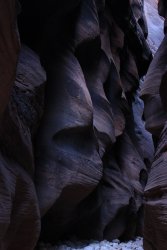 What's that alcove doing up there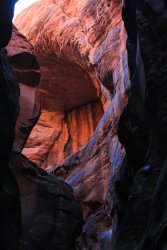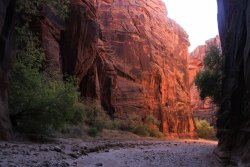 Then you come to a boulder field. Not THE boulder field, with the rabbit hole or hand line down the steps gouged out of the rock. That is Much farther down canyon.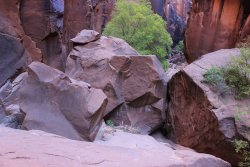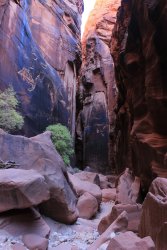 I had never been beyond the boulder field before, but due to the marvelous conditions, I was able to keep going.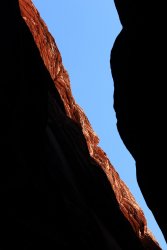 This caption covers two photos. There is this long, straight, flat wall on my right. Then in picture two there is an appearing tall chunk just right of center that appears it could have filled the space I am standing and behind me (aside this wall). But where did the rock go?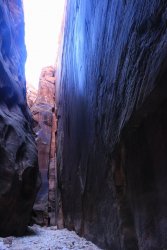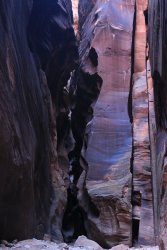 It could get especially dark at times.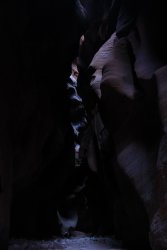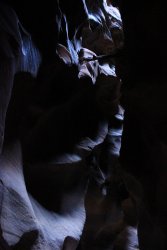 This was an intriguing mix of smooth and fluted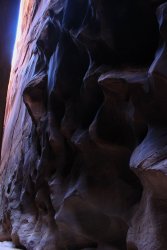 Looking up the wall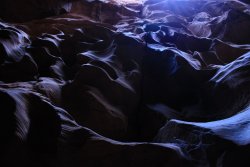 This pillar was unusual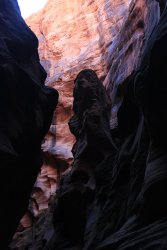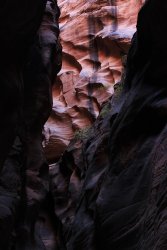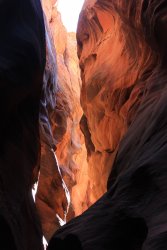 "Oops I made a wrong turn. This is a dead end." There are no options in here so there are no wrong turns.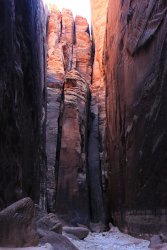 Down thru there I go!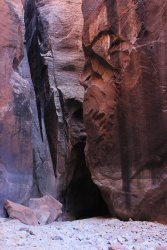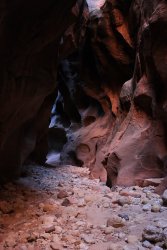 Then I came to a section where I seemed to be going in a straight line but not in the same fault. I'd walk so far straight, then cut thru the rock and get into another straight section then cut thru the rock into another section. It was so darn cool!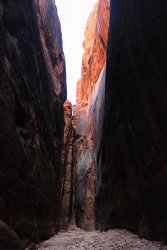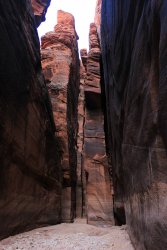 Looking thru one of the "thru the rock" sections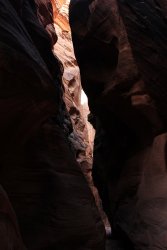 Two stuck logs. Gives a sense of how high the water can get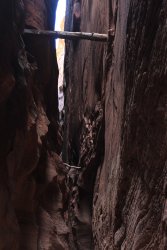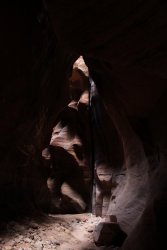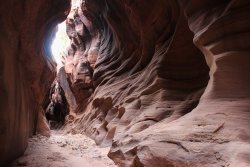 Buckskin Gulch is timed day hike. You turn around when you feel you need to in order to get back with some light. I thought 1:00 PM would be a good time. At 12:30 I ran into my first wall to wall pool of water. It looked deep. I threw in a couple rocks. It sounded deep. My soft goal was the midway climb out spot. But to be honest I didn't know if I was 5 minutes or 2 hours away. So, it was time to turn around and head out.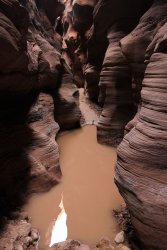 I want to take a moment to highlight the experience if Buckskin is wet. This shot you can see the deep footprints that some poor sole pulled themselves through when they couldn't walk around it like I could.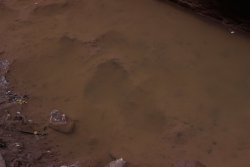 This is a sign, in the dried muck, of someones travails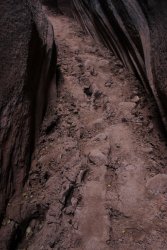 This is
@Scott Chandler
in July 2011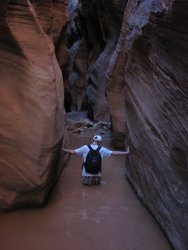 This is
@Jeffrey Chandler
in June 2015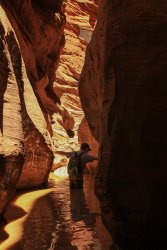 One thing that always strikes me is how perception changes going upstream. Going in it seems level but you know you are going downstream. After all water flows downstream..dah. But the rocks take on a different look because of the gentle rising.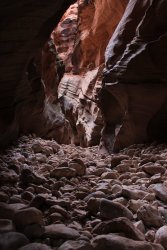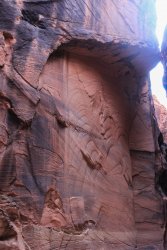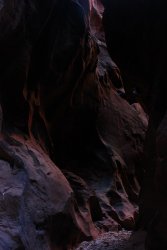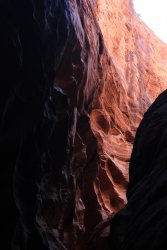 An arch type feature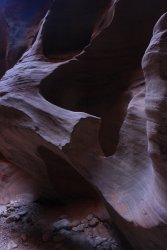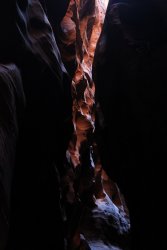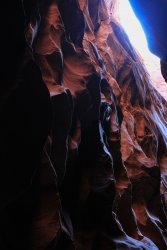 Back at the boulder field. Going in I walked thru ONE 5 foot stretch of sunshine. Coming out I had a few stretches of sun light.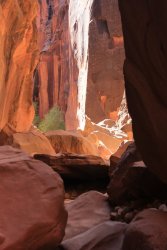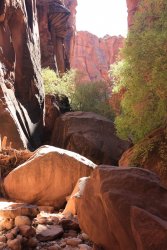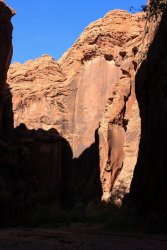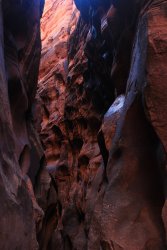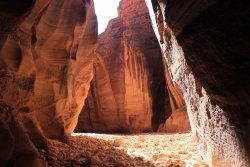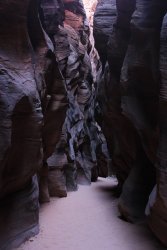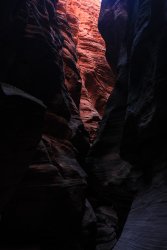 Can light get any more subtle? You take the camera and prayer that it can capture it.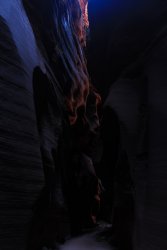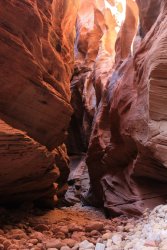 The perspective of this stretch has always fascinated me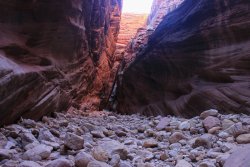 Jeff here in June 2015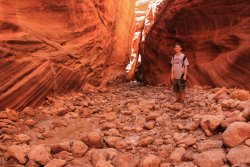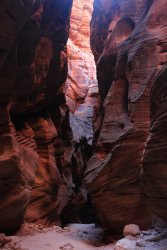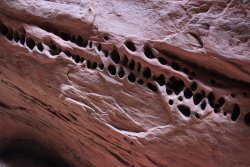 Back at the confluence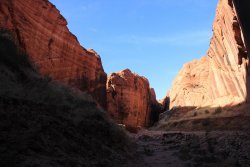 A look back while walking to the car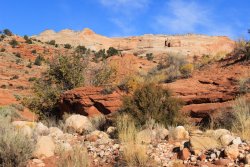 As most of you know, Buckskin Gulch leads 12 miles or so down to the Paria River then you can choose to turn upstream which takes you to the White House trailhead just off HWY 89 in 7 miles or you can head downstream and you will be at Lees Ferry in 31 miles.
Accessible, yet not overwhelmed uniqueness is quite rare in our world. I saw no one going in and only a few people on my way out, but we were all swallowed up in our own surroundings quickly.
Last edited: