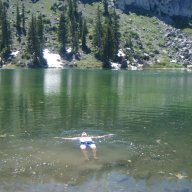 Joined

Apr 27, 2016
Messages

483
May 4, 2021
We had a troubling start to our trip. Late the night of the 3rd my wife started not feeling well. It seems that she had food poisoning. I have told her for years that eating raw cookie dough would eventually catch up with her. I woke up at 4 and asked her if she still wanted to go, after saying she was dying she said she was up for trying. My in-laws had stayed at our house so that we could all get an early start. A little after 5 a.m. we were on our way. After a few stops on the way we arrived at Bryce Canyon at 11 a.m and met up with Kim's brother and his family who had driven down to explore some hot springs a couple days earlier.
We headed to the Sunrise Point to start our first hike. Kim decided to stay in the truck and I led the other 7 to Fairyland Loop. We had decided to hike it counter clockwise. I told everyone that they needed at least 2 liters of water and a sun hat. Once packed up we set off. The views didn't disappoint and everyone was suitably amazed.
Kim and I decided that her brother's kids should complete the Jr. Ranger program as well as the hike the hoodoos. One of the three was interested enough to have hers out and ask some questions. We were looking for plants and also keeping an eye out for the points on the hike the hoodoos section.
This guy started turning really red. I tried to get him to slow down and drink water but he kept saying he didn't need water. Unfortunately I think he was picking this up from his Dad that kept saying he didn't need 2 liters of water.
Eventually the group got somewhat spread out. As we were climbing out toward Fairyland Point I ended up ahead and would stop and wait for a couple people to catch up and ask how everyone was doing.
I reached Fairyland Point and eventually everyone showed up. My nephew wasn't looking so good, his face was really red. My oldest niece was tearing up, but she just kept telling us her eyes were sweating. The youngest nieces was just full of rage, but that is an everyday occurrence. I took off along the rim trail because I wanted to check on Kim. I stopped at the turn off to where we parked to make sure that everyone knew where to turn. The look of relief on their faces at the hike being almost over was pretty entertaining. As we were nearing the trucks my nephew said "I'm going to puke", and sure enough there he went. We at first thought it was over exertion but as the night went on and into the next day we are pretty sure he ended up with a touch of heat exhaustion. Kim had hiked about a mile along the rim trail and was feeling a tad better. We went to the general store and picked up some soup so she could try to get something into her stomach.
We spent the evening around camp at Ruby's Inn campground.
May 5, 2021
We woke up and Kim said she was feeling quite a bit better. She even managed to eat half of a breakfast burrito. My nephew still wasn't feeling too well so him and his mom ended up staying at camp while the rest of us headed to Sunset Point to start our hike that included hiking down the two bridge trail, then clockwise around peekaboo, up the queen's garden trail back to sunrise point and along the rim back to Sunset Point. Wall street wasn't open yet , so unfortunately we didn't get to check out that area.
We got a fairly early start so the trails weren't too crowded.
The hiking progressed well, Kim was feeling a lot better, but still a little weak. The views are almost overwhelming, it would be easy to fill several memory cards with pictures.
We stopped for lunch at the intersection with the Queen's Garden trail, and while eating had this blue jay visit us.
After our hike we headed to the visitor center to help the two girls with their Jr. Ranger booklets. Kim and I also completed the hike the hoodoos challenge. The Jr. Ranger work took a bit longer than expected due to the sweating eyes and outbursts of rage as discussed in the first day also happening on this hike. We eventually got this complete and then headed back to camp.
Our nephew was still not feeling too well. He had apparently been sleeping most of the day. Kim and her mom took her nieces to the pool which put them in a better mood, and later took everyone for ice cream. We had tacos for dinner, which seemed to work since it was Cinco de Mayo.
Later that night we drove out to Paria Point to view stars and attempt to take some star photos. They didn't turn out too well. We did see Elon Musk's satellites go streaming over us. Kim's brother was out there screaming about UFO's, Kim said it was his real family coming to get him but that there were too many witnesses.
May 6, 2021
We woke up, ate breakfast, and started packing up camp. I had decided that since we had a few vehicles that I would combine a couple short trails together off of Skutumpah Road. We left my Brother-in-law's truck and trailer in Cannonville and loaded into the other two trucks and headed out. Kim and I were laughing our asses off as we turned on to Skutumpah Road because her dad had bought a truck a couple of months ago and yet to take it off pavement. We were sure he was back there cursing us out.
We dropped most everyone off at Sheep Creek and then dropped a vehicle at Willis Creek and headed back to sheep creek to start the hike. Kim and I are the only ones that have really done this type of hiking and the lack of a trail seemed to really throw off her family. We had everyone on this hike since it seemed that our nephew had rebounded.
It look us a bit longer to get down Sheep Creek than Kim and I expected. It seemed like there were a lot of rather long breaks as we progressed down the canyon. When we arrived at the confluence with Willis Creek a few of us looked for some rock art while the others rested in shade. We found a couple of interesting panels.
We then started heading up Willis Creek towards the truck. Unfortunately this is where I think we broke the kids. They were taking extended breaks every couple of minutes and the sweating eyes and outbursts of rage were coming quite frequently. Kim's dad seemed to coddling this behavior so Kim and I were getting a bit frustrated as well. Willis creek was wide open until we got closer to the trailhead and it narrowed a bit. Kim's brother and his wife really liked this part so I told them they should check out some of the other canyons in the area on future trips.
This hike took quite a bit longer than expected due to sweating eyes, outbursts of rage, and a lethargic nephew. We quickly headed back to Cannonville rather than check out Bull Valley Gorge. Then it was off to Escalante Outfitters for Pizza. Kim and I always enjoy this place, but with a group of nine it was hard to find a place to sit. Luckily not too long after we arrived a couple at another table told us they would be leaving soon and that they would let us have their table to combine with the one we had.
The pizza and salad was delicious. There was a lot of negativity at the table. I think that most of the extended family was not used to this much hiking and were grumbling about everything. After dinner I tried to convince everyone to head home on their own but they followed us and ended up checking out some rock art along the Escalante River with us.
The rock art and the views were amazing.
There was so much grumbling and cutting of the trail on this last bit that I eventually lost it on everyone. I said it was going to be a while before my memories of them on this trip were warm enough to invite them on any more. I really need to re-read my trip reports with family on here. I'm pretty sure I mostly complain, but for some reason I keep planning trips with them.
Now that it has been a few days Kim and decided we did enjoy ourselves, but there was just a build up of frustration on the last day. I've got the trip t-shirt designs all ready to go.