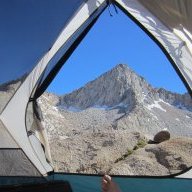 Joined

May 24, 2015
Messages

127
The Brazilian Cerrado, or Savannah, is the next largest biome of Brazil. Second to only the Amazonian forest. It is not as well known, but it is home to a rich variety of plants and animals. It is the most biodiverse Savannah in the world. We visited during the southern hemispheres calendar winter, which is actually the Cerrado dry season. It had not rained for over two months. With the unusual drought taking place and last seasons fires, the watering holes were drying up earlier the usual. What water that was found was hosting a wide variety of birds and mammals. We spent time in a national park called Chapada dos Guimaraes. There was no opportunity for overnight camping so we did a series of day hikes in the park and the surrounding areas.
The Cerrado was mostly dry, which was perfect for these Greater Rheas.
There were a lot of colorful birds in the Cerrado. Many were found near the water ways that were still flowing.
Blue Crowned Trogan
Rufous Tailed Jacamar
Sayaca Tanager
Orange Backed Troupial
Chapada Flycatcher with setting moon
Yellow Chevroned Parakeet after a bath
There are a lot of snakes and lizards. We only saw lizards. Some new reptile species are still being discovered even as parts of the Cerrado are being destroyed for short term farming.
Blue Lipped Tree Lizard
These Tegu lizards get up to four feet in length.
We went to a national park known for Bridal Veil falls ( Veu de Noiva), that is at the head of a large canyon that faces the setting sun.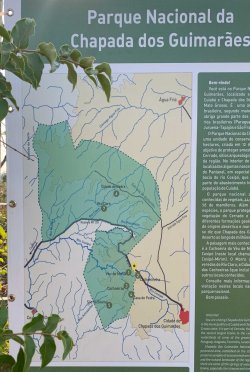 Not much water flowing near the end of the dry season.
There were noisy Red and Green Macaws flying below us.
Some of the macaws decided to perch on the brink of the falls right as the sun was setting.
There was also a riparian area that was choked with Caiman, basking on the shore.
These guys are pretty shy and there are fortunately, not many human /caiman encounters.
Rufescent Tiger Heron
A pair of Jabirus feeding with Capybaras in the water. These are really huge storks, almost 5 feet tall.
The Blue colored Hyacinth Macaws are the largest of the Macaws. Another really striking bird to see in person.
Squirrel Cuckoo
Guiria Cuckoo
It took a while to find this Pygmy Owl. He was hiding in the tree cavity.
This Tropical Screech Owl was a lot easier to find. It was perched above the door of our cabin.
Even the pigeons in Brazil can be very striking. This is a Scaled Pigeon
This is a Pileated woodpecker like we have in North America.
Vermillion Flycatcher
Swallow Tanager
The Cerrado is a bird watchers paradise. I have a full folder on my flckr page of just Cerrado photos with even more birds:
https://www.flickr.com/photos/14821634@N05/albums/72157719851983575
Our final stop was going to be in the Pantanal to look for Jaguars. I will make a separate post for that.
TV
Last edited: