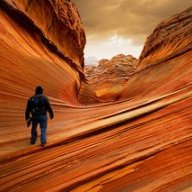 Broadcaster, formerly "ashergrey"
.
Joined

May 5, 2012
Messages

1,722
The Utah Division of Wildlife Resources confirmed to KSL today that a Scout leader fired three shots at a young cinnamon bear at the Bryant S. Hinckley Scout Reserve (aka East Fork of the Bear scout reservation) Wednesday night. A troop had left food unsecured on a picnic table. They found the animal on the table, eating the food. Apparently, the troop told DWR the bear advanced on boys, so the leader shot and killed it.

DWR is still investigating. They're not sure if this is the same bear that chomped on a tent at the camp last week. The state plans to turn the case over to county prosecutors for possible charges.

The state is obviously frustrated that this happened though, given they had put officers at the camp Monday to warn incoming troops about last week's bear sighting. DWR told the scouts to take extra care making sure their campsites were clean. They didn't, so the animal died.