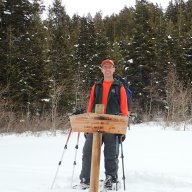 Joined

Nov 23, 2012
Messages

6
One Friday this past July I got the urge to do a quickie one night backpack close to home. It was about 2pm already, I was at work, had no destination in mind and nothing packed. I called my son, Ben, and asked if he was interested in going on a last second overnighter. He is always interested in an adventure especially if it involves camping so of course he said yes. We started discussing the possible destinations from our Google Earth list of "Awesome places to camp", most of which are close to home. After a few minutes we decided to try "Awesome place to camp #15" which is right in the bottom of the cirque on the north face of Box Elder Peak.
Google Earth looking south into the cirque:
I left work at about 2:45, drove home and we started frantically throwing gear in our backpacks. As we did so we both thought about but ultimately did not bring head nets - that turned out to be a mistake. After packing we had to make a trip to the local Smith's Marketplace and grab freeze dried dinners. Then it was off to the trailhead which was only 20 minutes away from the Smith's. We arrived at the trailhead to find it packed with cars but we grabbed one of the last open spots and started hiking just after 5pm. Our planned route was the Dry Creek trail for about 3-1/4 miles then the Box Elder trail for about 3/4 mile then bushwhack the last 1/4 mile to the cirque.
We passed a few people heading down canyon as we went up the trail but it was less busy than I expected from the parking lot. After about 2 miles we spotted Horsetail Falls through the trees.
At about 2-3/4 miles we stopped to filter water from Dry Creek. I wasn't sure if we would have water at the cirque so we topped up here.
The views from here up were spectacular:
At about 8pm we arrived at the big meadow where the Box Elder trail splits off from the Dry Fork trail. We ran into and chatted a Boy Scout troop that was camping just out of the meadow. They were waiting for sunset when the meadow would turn to gold. We had to press on...
From the fork in the trail we finally got our first look at the cirque.
We followed the Box Elder trail for about 20 minutes then went off trail and headed for the cirque. We should have jumped off earlier as the way we went was full of thorny currant and rose bushes. Things go even worse when we ended up on an extremely steep hillside below a some rock outcroppings. We worked our way carefully along a sketchy ledge hanging onto thorn bushes for balance and eventually made it up to the base of the cirque where we found a beautiful crystal clear spring and a bunch of wild flowers. About the same time the mosquitoes appeared in droves. They were bad enough that we put on DEET (which is last resort for us) but they kept on biting anyway and we both regretted leaving the headnets at home. Nevermind we were almost to our destination! 10 minutes more hiking and we made it!
It was 9:15pm and the sun had just set so we quickly set up camp and started fixing dinner in the growing darkness while swatting hordes of mosquitoes. Somewhere high above us in the growing darkness we heard a rock crash off a cliff and smash into the talus slope below. A large animal walked through the brush somewhere out there and Ben could hear it huffing and snorting in the darkness - probably one of the deer we had seen as we entered the cirque. By about 10:30 Ben crawled into his hammock and promptly fell asleep. I was determined to get some star photos so I stayed up a little longer. To the south, the Milky Way was just visible over the city glow after full darkness and before moonrise.
To the north the sky was darker and the stars were brilliant.
The air was still and the night was quiet; I could smell pines and wildflowers and dust. I sat in the darkness and drifted into thought. I looked around at the stars and silhouettes of the mountains and trees then I spent a few minutes contemplating the immensity of space and the universe and the speck of dirt we live on. I thought about the vastness of it all and how insignificant the the things were that I was stressing about just a few hours before. When I'm in the wilderness, even if it's only a 15 minute drive and couple hours hike from home, life seems so much simpler and my head clears of all the clutter.
I went to bed at about 11:45pm. The night was warm with just a slight breeze. It was an ideal night for sleeping under the canopy of endless stars. Just one hitch: the continuous hum of mosquitoes that kept me awake for hours...
I dozed here and there but finally fell asleep around 4am.
At dawn the title "Awesome place to camp" was completely validated.
Obligatory father and son shot:
We walked back down to the spring at the base of the cirque to fill water bottles and enjoy the scenery.
Box Elder Peak is the little bump on the ridge near the center of the photo.
After breakfast we decided to go back down the long way by hiking east to the ridge between Dry Creek and Deer Creek then to the saddle then back down the Dry Creek Trail.
We packed up and picked up some old trash left by previous campers and headed north-northeast towards an intermediate saddle. Once again it was brush busting on a little bit too steep of a hillside. We made it to the saddle and the view made it all worthwhile.
(Panorama)
From this saddle we turned almost due east and followed a faint trail to the main ridge between Dry Creek Canyon and American Fork Canyon. Once we hit the ridge there was a well worn trail and strings of people headed for Box Elder Peak. We approached Community Flat at the saddle between Dry Creek and Deer Creek.
The saddle at Community Flat has one of the prettiest meadows I've ever seen with a great view of Timpanogos. It is pretty heavily used which is too bad because if it weren't I would have broken out in song with ♫ The hills are alive ♪. Ben was glad there were other people around.
A little bit later we were back to the meadow where Box Elder trail splits from Dry Creek trail. Last look at the cirque.
About the time we got back down to the vicinity of Horsetail Falls we ran into a 4 ft gopher snake on the trail. I have not seen one of these before so that was a nice bonus.
For a last second trip it was a complete win. I'd do it again in a heartbeat even with the 40+ mozzy bites and too little sleep. Alas, there's so many other awesome places to camp I may never return but I'll never forget. Thanks Box Elder Cirque and Lone Peak Wilderness...
RK