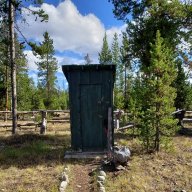 Joined

Feb 15, 2020
Messages

377
Getting started on my summer trips for 2021 made me think about my first trip last year, which was a quick two-nighter in the Never Summer Wilderness. It's a little bittersweet, because thanks to the East Troublesome Fire late last season this area probably isn't going to be the same again for quite some time. The northernmost extent of the fire lies just south of the actual route though, so I imagine it will at least be hike-able again - albeit with much changed views. (The entire area - including this trail - is closed at the moment.)
Day 1: Bowen-Baker TH to Blue Lake
After leaving the trailhead in Rocky Mountain NP, you almost immediately cross the boundary line and enter the National Forest. In many of my photos you can see a lot of the beetle kill that helped the East Troublesome fire spread as quickly as it did. (And consider that this is generally
avoiding
the beetle kill for photos, since it's not particularly photogenic.)
I believe large sections of the area pictured below were burned. When the area reopens, I'd like to get a comparison picture.
Camp at Blue Lake on the first night was serene. I believe one other solo hiker was camped nearby, but I just barely glimpsed his site and we didn't speak.
Day 2: Blue Lake to Parika Lake
The second day would have me climbing up to Bowen Pass and dropping down a bit before climbing Fairview Mountain. From there it was easy to drop down to the saddle between Fairview and Parika Peak before descending to Parika Lake. There was a bit of snow/ice, but all easy enough to traverse. One section dropping down to Parika Lake looked a little tricky going the
other
direction on the loop, but in my direction was an easy glissade.
I had the lake to myself, which was a bit of surprise even early in the season. I'd heard Parika Lake gets a decent amount of traffic.
I did have a number of furry visitors to my camp. There were some off and on rain/hail storms during the evening and they would pop out to graze each time the sun came back out. I actually got a fair bit of reading done during the storms, which is rare for me on a trip. I was thankful I'd decided at the last second to bring a book.
Day 3: Parika Lake to Bowen-Baker TH
The final day was a pretty straightforward, downhill jaunt to the trailhead. The trail was peaceful and scenic, though progressively less so close to the trailhead. There was a light mist in the air, but the sun poked its way out often enough to keep things comfortable. And of course after spending much of three days walking under mostly grey skies, the sky was blue as could be from the time I got near the trailhead until I pulled into my driveway.
It was a fantastic trip and one I
hope
to repeat in the future. If you're interested in this route, just keep in mind that much of the area is closed for time being and will likely be changed significantly for the foreseeable future. I've included my CalTopo route below and if you turn on the "Fire History" layer you can see just how close to this route the fire came - not to mention the sheer scope of the burn. (If you have access, the snow has begun to melt enough to see the damage on the weekly satellite photos as well.)
Click here to view on CalTopo