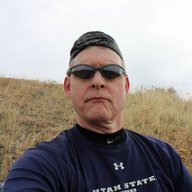 Joined

Dec 23, 2013
Messages

2,941
For the past thirty years now, one weekend (2 or 3 nights) during the summer, my family gets together with some coworkers and some former coworkers and we car camp at various campgrounds, usually along the Mirror Lake Highway, though we have camped at Smith and Morehouse, and Ledgefork in the past too. The last four years though, we have stayed at the Sulphur Campgrounds. Other than last year, when I went up the day of my sports hernia surgery, I have always done some sort of day hike on the Saturday of our stay. This Saturday was a hike up the Whiskey Creek Trail to Bourbon Lake, and then an off-trail jaunt of about 0.5 miles to an unnamed pond to the northeast of Bourbon Lake, and then off-trailed it back to the highway.
This was my first time to Bourbon Lake and the trail to the lake is probably slightly less than 2 miles(?). Many wildflowers along the trail were in bloom, so I stopped frequently to take pictures as I worked my way to the lake. Once at the lake, I stopped to eat lunch and just enjoy the view. There were maybe fifteen others who were at the lake too, most of them fishing.
After lunch, I made my way cross country to the unnamed pond, which is actually larger than Bourbon Lake from what I could tell. The pond had some nice pond-lilys on the west end, and after checking out the pond, I preceded to work my way back down to the highway, hopefully somewhere near the trailhead.
Here ares some shots of a good short hike.
Owl's Claws
Scarlet Gilia
I have never seen a Black Bear in the Uintas. Sign near the trailhead.
Fleabane was an abundant wildflower along the trail
Stonecrop
Heartleaf Arnica and a Dandelion
Whiskey Creek - I'm drowning in a whiskey river.
Willie Nelson
Fleabane and Pentstemons
Lousewort
Sulphur Indian Paintbrush
Small stream below Peak 10,488
Bourbon Lake
Bourbon Lake outlet
Paintbrush and Arnica
Corn Lilies
Beginning the off-trail portion
View across Hayden Fork
The unnamed pond down below
More Corn Lilies to pass through
Elephant Head - prevalent in the marshy areas between the lake and the pond
Trying to choose the easiest route
Small patches of nastiness
Arriving at the unnamed pond
Looking north, down Hayden Fork
Making my way back down the slope to the road.
Home for a couple of nights at the campground.