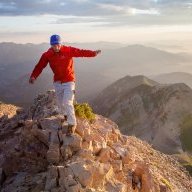 Joined

Aug 20, 2014
Messages

27
I'm fascinated with the Boulder Mountain area...and how little information exists about that area! I'm starting this thread in the hopes of building a place to develop some great general knowledge of the area, regarding backpacking and fishing. I can't wait to get down there this summer and really poke around.
Topics that might be useful would be: accessibility (road conditions, ice off, snow melt, first snow) , lakes with good fishing (or those with winterkill) (or general areas of good fishing if you want to keep the names off the web), effective flies/methods, favorite viewpoints, great camp spots, mosquitos, and anything else you can think of!
I can start us off...though I've only been down there once!
Mid August 2014
Access:
"North Slope Road" to Blind Lake. Road was muddy, due to recent rainfall. Made it up to the Blind Lake trailhead in a Mini Cooper S Countryman All4 with no problem. Beyond the Blind Lake Trailhead the road continues up to Green Lake but becomes a definite high-clearance 4x4 required, as it gets steep with plenty of large round rocks/boulders.
The east fork of North Slope Rd, which leads to Fish Creek Reservoir/Beaver Dam Reservoir, is in the same high-clearance 4x4 condition.
Also, I made it to within a mile of Donkey Reservoir/Bob's Hole farther west along that access road, but hit a steep/very rocky spot that I couldn't get past.
Needless to say, my MINI takes a beating occasionally.
Trails:
I hiked from the trailhead to Blind Lake and setup camp. Plenty of campsite in the vicinity of Blind Lake. Hiked over to Fish Creek Res. for a day, which was a fairly short, easy hike, maybe 2 miles?. Later on, hiked from Blind Lake over to Left Hand Reservoir, stopping by Green Lake. The hike was a bit longer, but not too bad, perhaps 5 or so miles. We went on from Left Hand to camp at Solitaire Lake, which was very pretty but only caught a couple fish. Trails alternated between single track hiking trails and decommissioned ATV trails. I regretted backpacking WITH waders/wading boots. Silly me.
Mosquitos:
No mosquitos to speak of in mid August!
Flies:
My lady caught a very large splake at Fish Creek Reservoir on a simple olive wooly bugger. I did well with a damselfly adult pattern on Left Hand Reservoir. I was hoping to catch a Callibaetis hatch, but I think I was a little late in the year.
Viewpoints:
I know that Donkey Point is supposed to have a gorgeous overlook toward Capitol Reef NP, but I didn't put in the effort to hike up there.
I had a post on my website last year with images -
www.nicodebarmore.com/2014/08/19/boulder-mountain-north-slope/
I hope some other folks can chime in on roads/access to other areas, great hiking routes, or favorite groups of lakes!