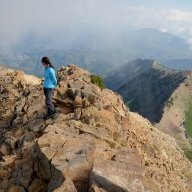 Joined

Oct 5, 2014
Messages

39
In a couple of weeks we (two of us) are keen to hike the Boulder Mail Trail but exiting through Death Hollow. Hopefully before it gets too hot although we plan to do the slickrock upper section early in the day.

I've got a couple of questions that I am hoping that others can help with:
- I am having trouble working out mileage for this version of the Boulder Mail Trail as trip reports/trail guides I have read that include mileage are a little confusing (e.g. some start at the Upper Death Hollow and others exit at Escalante). Does anyone know the approximate mileage for the version we want to do? Including how far it is from where you exit Death Hollow to the Escalante bridge?
- We are pretty fast hikers but know that we will be dealing with being in the water a good chunk of the time and want to enjoy being there. We plan on camping two nights in Death Hollow. Does this sound about right and does anyone have any particular recommendations for where to camp? Are suitable campsites reasonably frequent through the canyon?
- Has anyone got any particular advice for this trip?

Thanks in anticipation for your help.