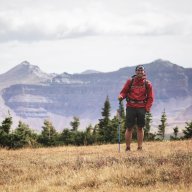 Joined

Mar 28, 2013
Messages

29
Hola!

I'm planning on opening up my 2018 season with an overnighter on the BMT. First, thanks to everyone in this forum for all the info that you've already shared about this trail. All your pics and trip reports are really helpful and are what have made me want to do this trail so badly. In getting prepped, I do have a couple specific questions that I'm hoping you might be able to give me some advice on:

1) Water sources. What's reliable? Where are they? Do I need to plan on schlepping all my water just in case?

2) As an overnighter, where's the best place to camp? I'd prefer something near the halfway mark, and, if possible, close-ish to a water source for rehydrating meals.

3) I'm planning on going mid-April. Anything specific to keep in mind for that time of year?

Thanks in advance! Can't wait to take a zillion pictures and post a trip report!