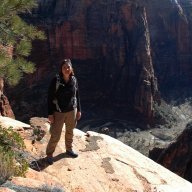 Joined

Jul 16, 2014
Messages

100
Last year we hiked the Boulder Mail Trail from Boulder to the Escalante River via Death Hollow. We camped by the mouth of Mamie Creek which was an awesome campsite with the extra bonus of not having poison ivy on most of it. Seeing the Mamie Creek Natural Bridge on the map, I wanted to go back and hike to see it. Since we had hiked the Boulder Mail Trail several times from the Boulder side but never from the Escalante side, that was the plan. The spring has been cold and rainy but we took a window and headed out from St George.
The trail starts at the Escalante River Trailhead and follows the Escalante River then Pine Creek before heading up the ridgeline.
As an extra bonus, all the rain made water sources plentiful.
Looking down on Escalante
There was still lots of snow in the mountains
I loved this little Ponderosa island.
This tree must have seen some lightning
One good thing about the wet year has been the wildflowers.
The old telegraph line
Coming up to the Mamie Creek drainage
Flowing water though Mamie Creek
Here's the Natural Bridge
A great view down to Death Hollow while going to the other side of the bridge
With all the water flowing, the other side was really sweet
Here's a pourover on the way back
The skies were threatening but we never had more then a sprinkle
A great hike, 16 miles about 2600 feet elevation gain. Good to be back in the Staircase!