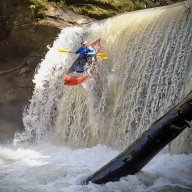 Joined

May 3, 2013
Messages

556
Glad I found this forum, its made me go back and re-live some of my favorite trips and go through old photos. And live vicariously through all these awesome trip reports and photos.
You don't hear much about Boulder Creek, most people that do get in there see it from the Escalante River confluence and don't go to far up the canyon. Accessing it from Hwy 12 isn't easy with a big backpack, but its worth it. One of my best backpacking trips was a solo 3 day jaunt accessing the creek just south of Haymaker Bench off Hwy 12, scrambling down until you get near the Deer Creek confluence using some Moqui steps. You can get in further upstream too, a bit easier access and more wading. The narrows are filled with basalt boulders between the pools and plenty of lithic scatter. Hike down to the Escalante River back to the Hwy 12 bridge. A good side trip to the Gulch is easy, there is a class 4 scramble up out of the canyon on the left just before you get to the narrows.
What a gem, seems rarely traveled and pristine, and some of the best swimming holes in the area outside of Death Hollow and Upper Calf Creek in my opinion.
Upstream of the Deer Creek confluence
Beginning of the narrows
This panel is actually labeled on the topo. Found it on the hike out below the narrows after a day trip.
An easy scramble out of Boulder Creek and a quick jaunt over to the Gulch...
The Gulch sentry
Access to the Boulder Creek near the Deer Creek confluence
A few more pics...
[picasa]https://picasaweb.google.com/105768283703063059928/BoulderCreekUtah#[/picasa]