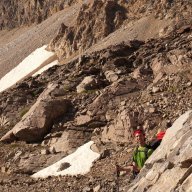 Joined

Aug 26, 2014
Messages

112
I recently spent a few days in the Escalante area, and with temperatures on the warm side it was perfect weather for some wading. One of the hikes I did was Boulder Creek, following Steve Allen's loop from highway 12.
About half an hour after leaving the trailhead I arrived at a spot above Boulder Creek.
The water was cool and at about shin level in most places.
At one point I rounded a corner and found myself staring at an owl. After taking a quick picture I started walking again but found myself surprised when the owl sat unmoved on the branch. I thought about it for a second and decided that either there was a nest nearby, or it had a good fishing spot. I graciously exited the stream through some particularly thorny bushes and rejoined further down canyon.
Further along the stream goes through some interesting sandstone formations.
Walls get taller and more interesting.
Dome near the confluence with Deer Creek.
Moki steps at the exit on a ledge above the canyon.
Looking back at Boulder Creek and Deer Creek.
The route back to the trailhead involved hiking up a side canyon and up onto a ridge. There wasn't any difficult climbing and the route finding was pretty straightforward. There were a couple spots with nice views, including this spot looking West/Northwest toward the trailhead.
Looking North into an unnamed canyon near the trailhead.
Old Boulder Road at the trailhead.
This was a great hike for a warm day. Despite having such easy access right off highway 12, it was a peaceful and quiet hike. As others who have hiked this area can attest to, there's lots of potential for exploration here, even in a day hike. I wish I had spent more time exploring below the confluence, but between the slick boulders, thrashing to avoid owls, and stopping to take it all in, there was more than enough to keep me distracted.