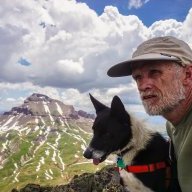 Joined

Mar 6, 2014
Messages

577
We live in Moab, a quick drive from the nearest entry point to the Book Cliffs, yet we never go there. For me the only time was almost 20 years ago. My kid recently went on a high school field trip to Sego. That's it.
Inspired by posts by
@hatchcanyon
and
@Udink
I feel it's time to expand our gaze northwards. So I'm soliciting for advice.
What's up there? Is it merely smoothly graded roads to drilling pads and the off limit Uintah-Ouray rez?
We don't have a 4X4 vehicle. Touring multi-day on mountain bikes would be the way. Roads or trails, better if some of them are nearly impassable and remote. Can one go 100+ miles without hitting civilization? Water?
Thanks for reading!