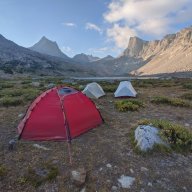 Joined

Jan 15, 2018
Messages

63
Hello all,

I'm in the process of planning a North Wall loop in the Bob this fall, and I'm looking to see if anyone can provide any guidance as to good campsites along the route we'll be taking. We'll be starting at the Headquarters Creek Pass trail, travelling west over the pass and across the North Fork of the Sun River, continuing west until reaching the North Wall, then north to the North Fork of Lick Creek, until we get to the Wrong Creek Ranger station, then continuing east along Route Creek, over, Route Creek Pass, and finally south over Lonesome Ridge to complete the loop.

I'm hoping to get to the North Fork of Sun River on night 1, as I've heard there is good camping along there. I've also heard there is a nice spot at the base of the North Wall near the junction of Red Shale Creek and the North Wall, although I'm not exactly sure where the spot is that I've seen referenced. I've also heard there are some nice spots along Lick Creek. Originally, we had planned to stay along the North Wall up to Lake Levale and follow Open Creek across to Wrong Creek, but having heard that there is good camping along Lick Creek (and not so great camping at Lake Levale), I think I'm leaning towards Lick Creek.

If any of you have any experience camping anywhere along this route, I'd love to hear your recommendations. Thanks everyone.