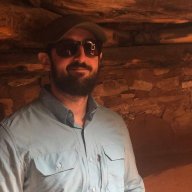 Joined

Jun 29, 2021
Messages

17
I'm trying to figure out just how cold the water is gonna be there this time of year, give or take around the April 8-14th. I've done a fair amount of river hiking in Utah, Escalante river, Narrows etc etc.. but the majority of those trips were in summer months. We've been going to Escalante in April for a few years now though, and always loved that time of year. So here we are again heading out there in April, but I realized that in all these more recent years when we've been there in April it's been mostly filled with longer over-land hikes that haven't had to deal with too much water, the most being Coyote Gulch but when we went it was pretty low so we barely had to get our feet wet. So now I'm realizing that in my head I've not sort of reconciled the two different times of years and water temperatures.

So with the trip coming up, I'd planned to finally get around to doing the BMT loop when I realized that with all the snow still high up north above that the water might be quite cold, and looking at reports over the past year or so with the beaver damming/deeper water crossings I worry that my wife, who's prone to getting really cold really fast, might be in for an awful time.

Any thoughts on the topic appreciated.