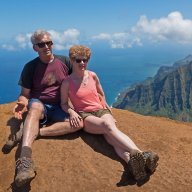 Joined

Sep 22, 2016
Messages

474
On Thursday, we took advantage of fresh grooming overnight and favourable weather, to ski a mix of trackset and backcountry trails in Alberta's Peter Lougheed Provincial Park.
The sun popped out along the Elk Pass trail as it broke out into the open along Fox Creek. No dogs allowed on these xc ski trails- unfortunately- Piper the golden retriever had to stay home.
Immaculate grooming on Elk Pass trail, with the Turret peeking over the trees.
Lunchtime at the Elk Pass- Blueberry Hill junction. Instead of the usual retriever- we had whiskeyjacks looking for a handout. You sharing that sandwich?
An enjoyable winding climb after lunch took us up to the summit of Blueberry Hill, with views of the Kananaskis Lakes. It was breezy up here, so we didn't stick around long before dropping into the fast fun descent back towards Elk Pass. Great snow conditions made for easy descending on the skinny skis.
The Opal range from Blueberry Hill, where over the years, the trees have been gradually encroaching on the expansive views. The trailhead is hidden at lower left- 500 vertical m. lower, and 8 km. away.
But we are not done yet- from near the bottom of Blueberry after a chilly descent-we followed an off trail route along a drifted in skier track through meadows and open forest south over the BC border, to West Elk Pass.
Looking back into Alberta from the upper meadows of the continental divide at West Elk Pass. Off-trail travel on skinny skis was easy on a very supportive snowpack.
Afternoon tea at "the snow couch" on the BC side of West Elk Pass. A local skier has made a tradition of building this each year, and we make a point of visiting when in the area. The view is south towards the mountains that rim the upper and lower Elk Lakes. Suitably refreshed- we retraced our steps across the meadows back to the groomed Elk Pass XC trail, for a quick 6 km, mostly downhill run back to the trailhead. A great day out in the Canadian Rockies!