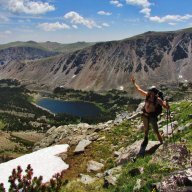 Joined

Mar 24, 2016
Messages

26
Out of the overwhelmingly huge amount of incredible places to visit and thoroughly acquaint yourself with here in Western Montana, I have found the single place that I tend to frequently visit, as well as further try to connect with on a deeper sense then a simple "walk in the woods."
The Bitterroot Mountains are a single mountain range among many many other spectacular mountains here in Montana. I have discovered the true beauty, character, and essence of these mountains in particular. Extremely wild in nature, dramatic in image, and gentle in spirit, the Bitterroot mountains posses a alot of gems. The one Gem that I have fallen in love with deeply is the majestic Blodgett Canyon.
Since 2011 when I moved to the Bitterroot Valley for my first trail crew season out of Stevensville, MT, I have been continually progressing my relationship with Bitterroots. My first solo backpacking trip in all of Montana took place here in Blodgett Canyon. It was a great experience. I knew right away that I would keep coming back for years.
I always recommend this place to anyone who is new to the Bitterroot mountains becasue it represents everything that these mountains have to offer. From Incredible Granite peaks, raging creeks, deep virgin forests, and epic views from the overlook and the pass at the back of the canyon.
There are many hidden treasures within this canyon that take a few times of visiting to find or notice.
There is a healthy number of wolves that migrate into this canyon in the winter, as well as really neat geologic amazements.
Horesehead Arch.
HUCKLEBERRIES!!!!!!!!
All 4 Seasons have a unique charm to them. Summer is clearly the most vibrant and Alive
Blodgett pass. Amazing flowers
Blodgett Mountain in the back
Beargrass blooms are always a spectacular event here in Blodgett Canyon.
The Winter time is a lovely time in Blodgett to truly reflect on the silence of sleepy cold and the tranquility of lifeless surroundings.
The wintersun provides a wonderful color in the sky.
Amazement abounds here.

This is one of my favorite spots along the trail. So amazing
Even the rodents appreciate the ruggedness here. This is a mountaineering chipmunk..
I have many many significant memories in this canyon. Like I said this was my first backpacking trip in Montana by my self:
June 2011
This is the year I moved to Montana. I was a Wilderness Ranger Intern for the Selway- Bitterroot Wilderness Foundation.
Just More Stunning Views.
I took my girl friend on our first backpacking trip together in July 2014 here in Blodgett where we first made love
Erin and Me on Blodgett Pass. Our first backpacking trip together <3
Approaching Blodgett Mountain in July 2014
And We still come here often together

Blodgett Overlook April 2015
January 2016
It is so very much a special place that I have taken all of my friends and family into the canyon.
Me with my Dad, Ray. May 2015
My Mom and Grandma even got a chance to walk around in it for a while
Me with my friends: Max and Willis. February 2015
My girl friend's Dad, Mike, and here brother Kelly. May 2015
The Bitterroot sure has alot to offer. If you ever do have chance to come out this way and only have time for a few things make sure that Blodgett Canyon is one of your priorities.

More amazing beargrass amidst the bigsky.
Erin on the trail backpackin in.
Also! So my girl friend Erin also is a trail builder, and her Trail Crew that she was the leader for the Summer of 2015 did alot of Rock structure work on the Pass. Check these cool trail crew pix out that her crew was involved with..
Putting in check steps
Building new drains.
As you can see this canyon has alot of wonderful things to see and explore. Now I shall grace you with more images of this amazing place. Enjoy...
View South from Blodgett Pass
Erin on the Idaho/ Montana Border.
View East from Blodgett Mountain Summit. Looking Down into the Canyon. Blodgett Pass is the saddle in the middle of the picture
More Iconic Granite Walls in winter time
Sunset in January
On the Overlook Trail
Blodgett Overllo in Black an White
View of the Bitterroot Valley from the overlook trail
My friend Willis among massive peaks
ICONIC
Comin down from the Pass, the easy, butt cold way...
View North from blodgett mountain...
Can you see why this is my favorite Canyon in the Bitterroot, and quite possibly my favorite hike in all of Montana?
This True wonderland exists here on Earth. How lucky we are as a human species to be able to witness such remarkable displays of earth's beauty.
I Hope you Enjoyed my presentation of the Bitterroot's Blodgett Canyon.