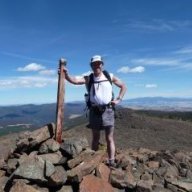 Joined

Aug 17, 2015
Messages

29
I thought that I'd offer a suggestion for a hike that starts about 10 miles from Helena, MT, where I live. The trailhead starts a few miles up the north fork of Travis Creek, which is off a good gravel road between Grizzly Gulch and Lump Gulch (Helena and Clancy). It's about 5,900' at the trailhead. The meadows are an easy hike of about 1 3/4 miles. This shot looks back across the meadows from the far side.
About 1/2 mile farther up the trail, a side trail takes off to the top of Colorado Mountain, the site of an old fire tower. On the way up, you get a good view of Red Mountain, which sits above the Ten Mile Creek drainage near the town of Rimini, just below McDonald Pass. A 3-mile, rocky, scree trail climbs to the Red Mountain summit, 8,150'. (There's another trail that goes around the back.)
The trail to the top of Colorado Mountain (7,200') is about 2 miles and not a very steep climb. The summit offers some great views, although the smoke from all of the fires makes it a little hazy these days. In the next pic, you can see a few of the footings that supported the old tower. Nothing of the tower remains.
The next pic looks south, and you can see Chessman Reservoir in the distance.
The next two shots look westward toward the Divide.
The next two pics look over the meadows from the trail on the way back down. The pine beetle epidemic killed a large number of trees across western Montana. As the roots die, the trees inevitably fall own, often blocking trails. The Forest Service does what it can to clear trails, and this trail would have been impassable if it had not been cleared. It's wise to carry a chain saw in your outfit in the hills, in case a tree blocks the road...especially on the way back.
Overall, it's about an 8-mile hike to the summit of Colorado Mountain and back. If you get out early, you may see an elk or two in the meadows.