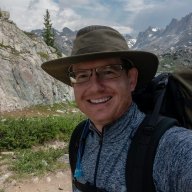 Joined

Apr 8, 2015
Messages

999
Thought I'd throw together a quick report of the trip I did to the Black Hills last month. I hotel camped in Keystone (not a good choice in January--the town is basically shut down) and only really spent one day really hiking, with a short hike the next day.
The evening I arrived it snowed about an inch. The roads got scary very fast, so I had to hit the hotel early (checked in at 4PM and just stayed there the whole evening). Was worried the roads would be too bad to actually go anywhere, but the next morning it wasn't so bad.
Headed toward the Willow Creek trailhead to hike up to Harney Peak. On the way, I stopped to take a picture of a mountain somebody carved some heads into. They made it into a national monument, if you can believe it.
It was pretty darn chilly when I started hiking. Overnight temps were, I think, in the single digits, but it warmed up reasonably quickly to a high in the mid 20s. Started hiking maybe 9AM and warmed up pretty quickly. Lots of deer along the lower portions of the trail, and a fair number of fresh mountain lion tracks. For most of the day, there were no fresh human tracks except mine (the trail was fairly well broken by other hikers though).
There is a shorter trail from Sylvan Lake to the peak, but I honestly wasn't sure if the road was even open to Sylvan Lake, and the longer, less traveled trail seemed a better choice to me anyway. The first few miles of trail take you to a saddle just to the South of Elkhorn Mountain. There are quite a few switchbacks right before the saddle, but they aren't that steep.
Didn't stop to take a lot of pictures on the way up. It took about 3.5 hours to hike up, with many stops to, surprisingly, keep from sweating too much. I was down to my base layer for most of the upward hike. The breeze was light and the higher I got, more clouds moved in. That made for poor photography, but the views were still great for me, having not really been out of the plains since last July.
The last push up the spur trail to the summit was more exposed and quite cold. For probably the last 2 miles, the snow slowly got deeper, eventually probably getting to about 4 inches deep. Thankfully the trail was still pretty well broken so postholing was minimal. The trail follows up a ridge from Elkhorn Mountain up to Harney and is really a fantastic hike.
At the peak at half past noon.
Cathedral Spires
There's a pretty elaborate fire observation tower at the summit. It is no longer used, but is left open as shelter, and, well, because it's the summit.
More summit views
My first ever summit selfie. (not sure how proud I am of selfies, but whatever)
Stayed at the lookout tower for about half an hour, eating a bagel sandwich for lunch and enjoying the views. I watched a snow shower slide by to the South. About 1PM headed back down.
Elkhorn Mountain from the trail. Very neat formation, and though I didn't get a lot of good pictures, the trail offers many very good views of this neat formation of rock.
Almost back to the trailhead. Arrived there at about 4PM. Passed one hiker on the way down and saw tracks of a second about 1.5 miles from the trailhead. Awesome to get such solitude in a place that is a tornado of tourist activity in the summer.
The next day I slept in a bit and, honestly, did a lot more driving than hiking. Goal for hiking for the day was French Creek. Considering doing an overnight backpacking trip there once the weather warms up enough. Spent most of the day exploring Custer State Park.
Deer along one of the roads
Late morning I arrived at the upper trailhead for French Creek. The area was burned recently in the Legion Lake fire. As I would find out throughout the day, a whole lot of Custer SP got burned.
The creek was iced over to various degrees. I actually only made it about 1.5 miles down and decided to turn back. I've gone through creek ice before in cold weather, and don't fancy doing it again. Some of the crossings were a bit sketchy to me. Think I made the hike a bit over 3 miles overall, which satisfied me well enough.
There were quite a few more big kitty tracks along the creek.
For some reason, I really like how this photo turned out.
After getting back to the trailhead, I decided to drive around some of the "wildlife loop" area to kill the afternoon. Not many other people foolhardy enough to be out here, though the roads weren't really bad (I myself live 5 miles from the nearest paved road, so snowy gravel roads don't really bother me much).
Found a pretty extensive prairie dog town. Didn't spend a ton of time taking pics of them, but I did find myself wishing for a longer lens.
After getting off the gravel roads, I drove the whole wildlife loop road. Not a ton of wildlife to be seen, but I did find quite a few antelope posing nicely at the lower end of French Creek.
The next day was for driving back home. I started off on a pretty meandering route, taking a lot of backroads on the way to Badlands NP. Stopped on one of them for a pic of Harney from the plains.
The lighting was abysmal by the time I got to Badlands, what with snow showers moving through. I'm always amazed how many photography books/tutorials/etc laud overcast lighting conditions. Great for flat, boring, colorless photos. I'll take contrasty morning or evening light any day.
Found a bighorn sheep along the road. Actually saw a lot of wildlife during this trip. Unphotographed wildlife included a herd of ~75 elk while driving away from Keystone to the East and a mountain goat walking along the road at Rushmore.
Overall, a very nice 4 day getaway. Amazing how quiet the place was in January--I figured there would be more people there despite it being winter, given that in summer this place is overrun with tourists. Hoping to get back in the spring to do more hiking/camping and maybe some backpacking. I'd also like to do the backpacking loop in the Badlands that
@Curt
did a few months back.