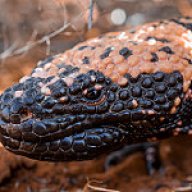 Joined

Feb 16, 2014
Messages

38
About a week ago, I spent the weekend down in the Swell hiking and visiting some rock art sites. A re-visit for me was the Black Dragon Wash Panel. I'm sure most, if not everyone, is familiar with this site and the "dragon" pictograph.
Black Dragon Wash Panel
by
Rye Jones
, on Flickr
But what is it actually a picture of?? A dragon? A pterodactyl? Maybe a crane or heron? Or maybe its none of the above.
I ran across this interesting article today and thought I'd share. I did a quick search on this site and didn't find any results, sorry if this has been posted.
Here is a link to the article.
http://www.sciencemag.org/news/2015/08/winged-monster-ancient-rock-art-debunked-scientists
What are your thoughts? It definitely changes the way I look at it.