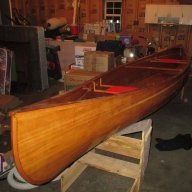 Joined

Jan 20, 2012
Messages

719
I picked up a Black Diamond Spot headlamp about 2 years ago and loved how bright it was. About 6 months or so, the light started failing on me and after a time or two of turning it off and on it altogether quit. Bummer.

So I just put it up in my closet and continued on. That light has been bugging me because I really liked it, and I didn't have my light anymore on camping trips. I finally decided to do something about it. Maybe it would still have a warranty or return policy that was good.

I checked on Black Diamond's website and couldn't find what I was looking for since the Warranty link was broken. I sent them an email explaining my situation, and they promptly wrote back, asked for some information, and then said they'd send me a new one! I just had to send a shoutout to Black Diamond Customer Service. It's always great to have prompt and helpful service, and a replacement certainly doesn't hurt! I'm just kicking myself now for not checking with them sooner. All those camping trips without my headlamp.