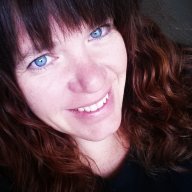 Joined

Jan 17, 2012
Messages

1,110
Black Canyon Trail Day 1
Early November I threw out an invite to any interested party to join me riding the Black Canyon Trail in Arizona. A few people showed interest but only one person committed Micheal Woodruff who was wintering in Sedona. Micheal told me pick your dates, weekdays work best, I will get the time off work.
My first bikepack trip was with Micheal in Idaho from Island Park to Elk Lake Lodge Montana so I was more than happy to accommodate his schedule. He is a great bikepack companion. He knows good food, excellent beer, and has a laid back hippy attitude that just goes with the flow of the trail.
He knows I am a slow roll on a bike and my goal is to enjoy the little things on the trail instead of mashing the pedals to ride far and fast. I may be slow but he knows I am a strong solid rider and if the going gets tough I won't quit until we both call it.
Good adventure partners are worth their weight in gold.
The BCT is approximately 70 miles and 99% single track. I wanted to complete the trail in 3 days 2 nights. My goal was to ride a minimum of 20 miles the first 2 days of the trip, leaving a slightly longer 30 mile third day. This turned out to be too lofty of a goal. One description of the trail said the trail was 100% rideable. It should have include a caveat that says "If your an animal."
I injured my left hamstring late November and was off the bike for 16 days and once given the okay to ride was told I couldn't stand up to pump up a hill and only had 10 days to try and get as many miles in as my leg could handle riding before the start of the trip.
I left Northern Utah Sunday December 16th and took two nights to get to the Carefree Highway on the outskirts of Phoneix. I stayed one night at Lake Powell and rode the fatbike on the beach and one night at Powell Springs CG near Camp Verde, AZ. My sleep pad kept deflating during the night so my sleep was less than desirable before starting the trip. I left Powell Springs by 5 AM Tuesday morning to meet Micheal at the Arizona Game and Fish (seriously does Arizona have to be different than everyone else?) on the Carefree Highway by 7:30 AM. I wanted to get there early so I could do my last check of gear and make sure I had everything packed and ready to go. I made it by 6:00 AM and parked right in front of the building. Michael arrived about 6:30 AM and parked in an overflow area.
Neither one of us knew the other was already there waiting. Micheal had told me he might be a bit late so I wasn't expecting him until after 7:30 AM. At 7:43 Micheal called me. "Good morning, where you at?" he asked. "I am sitting here in front of fish and game, well game and fish." I hear a chuckle. He inquires "in front of the building with big glass windows? When did you get here?" "Yes that is where I am parked, 6AM so I could do a last gear check, why? Are you here? When did you get here?" I replied. "6:30 I am parked near the shooting range in overflow parking, just East of the building." I think we both rolled are eyes a bit and laughed. I told him I was glad he called. I knew he might be late and didn't want to bug him by texting. I was just waiting patiently.
We decided to leave my car and take his to highway 69 where we would start the trip. Micheal told me he was really anxious about the trip. I nodded with understanding and said usually I am but I oddly I had no nerves about this trip. I was super excited to get started. He asked if I had a map. Yes, GPS on my phone with 2 separate backup battery chargers. I wanted a paper map but had not been able to get one with detail that would be useful. He said he was relying on me, that he didn't have a map or GPS. Okay, now I have a small amount of anxiety. If we get lost or my phone craps out it is all on me this time. He added that the trail should be well traveled, we most likely wouldn't have problems. On our way up I-17 we stopped at Bumble Bee road and cached a gallon of water each. I had tried contacting someone with local bikepack knowledge about the water situation and never got a response. We both felt better leaving some water than just hoping we would be lucky to find suitable water on trail to filter.
It didn't take us very long at the Big Bug trailhead to load our bikes with gear. We started riding at 10:15 AM. Which is about what I figured. This only gave us 6.5 hours to go 20ish miles. I have rolled on average with a loaded fatbike 6-8 MPH. We should be good. We headed through the gate and immediately you are faced with a choice to go right or left. Micheal chose left. We rode 60 feet before I said hang on let me see what this map says. We were off track already. We both laughed turned the bikes around and head back for the trail on the right. The trail started off with a climb, great way to warm up. I remember thinking to myself, this route is mostly downhill, right?
I love the desert, the dry heat and stark landscapes that some might not find beauty in. I sometimes miss living in the desert and that is when I know it is time for a desert fix. This trip more than satisfied my desert craving it made me fall in love all over again with the sand, grit and all things with spines.
The first 20 miles put a grin on our faces from ear to ear. That is some of the best single track I have ever ridden. The perfect amount of flow and technical challenge on my loaded fatbike. I could ride that section over and over again. It was an undulating dirt ribbon of pure enjoyment as it hugged the contours of the desert and descended towards Bumble Bee Ranch. We were blessed with beautiful blue skies and perfect temperatures for riding in the Sonoran Desert. For me this was one of the best days ever on a bike.
As we came to a bridge that crosses Bumblebee Creek we made the decision to save the "grueling 6 mile climb" to our water cache for the morning and camp next to the trickling creek. It was a beautiful oasis we couldn't pass up. As we set up camp Micheal said we would pay for today's riding bliss.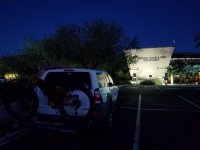 Me waiting early in the morning excited to get on the trail.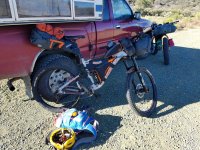 Micheal's loaded bike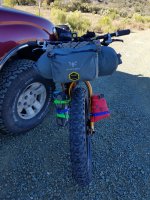 My loaded bike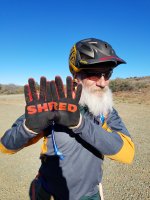 Micheal ready to SHRED!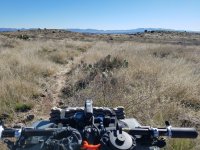 Cockpit of my bike and looking down a flat section of trail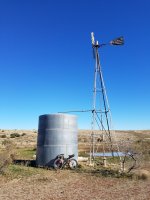 Windmill about 5 miles in.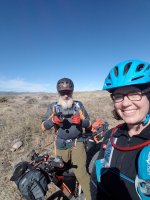 Me taking photo of Micheal taking video of me.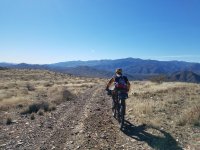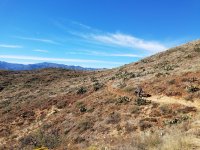 Just some random shots of riding on the trail.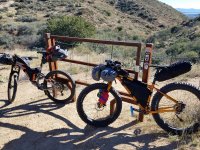 Bikes taking a rest while we had a snack.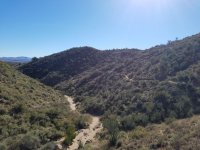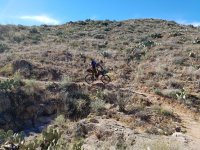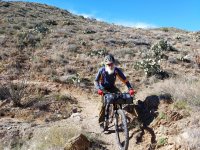 More random trail bits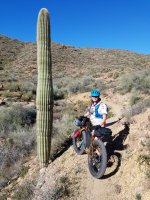 First Saugaro! This is just a little guy.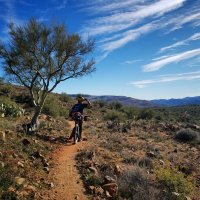 Micheal surveying the trail.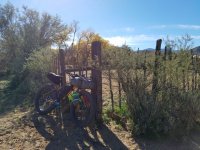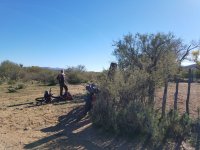 We stopped and lunched in this spot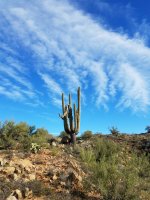 This is a trail guardian, he has large snout.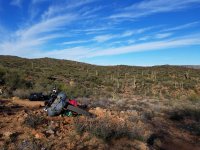 I love the saguaro's, I could have taken a photo of everyone of them.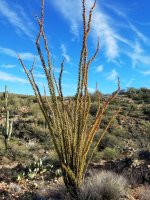 Ocotillo, hummingbirds like this plant.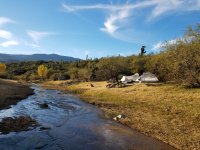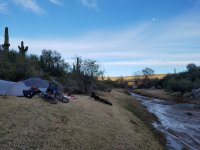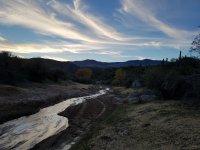 Our first camp spot on the Bumble Bee Creek
Day 2 coming soon....