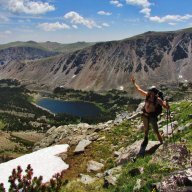 Joined

Mar 24, 2016
Messages

26
On yet another pre-summer day hike up another sweet Bitterroot high point, me, my friend Jakob, and my girl friend Erin hiked up the infamously notorious Gash Point on April 9 2016. Famous for its great backcountry skiing opportunities because of big open slopes caused by a burn in 2000, Gash is also an incredible vantage point for some of the most clustered mountains in the north section of the range.. I do not ski, but I do snowshoe. So I do it alot. It
was a beautiful day, but it was very windy. The Wind was so incredibly fierce, we did not spend much time on top. Some of the most absolutely diabolical summit winds I have ever felt, you could not stay on your feet hardly!
The wind blowing up the snow in our faces. Thats Jakob and Erin
First sweet views to the South. The wind is so harsh, my jacket poofed out. I dont drink that much...
Looking South at the main Bitterroot Glory!

Looking west into Bear Creek and of the the prominent Sky Pilot to the far right
The wind made it like we were flying.
Jakob nearing the Summit
The View North
Erin in her moon suit.
An Awesome hike! Be aware of the fierce winds up there on clear days. Its harsh. No joke.
Thanks again for reading
More to come, as always.