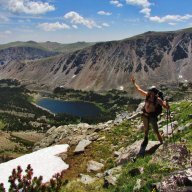 Joined

Mar 24, 2016
Messages

26
In February We had a short window of sunny weather, so like always, I called into work sick and we headed down to Hamilton to try for the 4th and finally time to reach the top of Mt. Ward in winter conditions! We did it and it was amazing!!!
Mount Ward is a Behemoth of a mountain. It is not a technical summit, however the TH is on the valley floor making the hike to the 9100' peak, one hell of an ordeal. The Bitterroot Valley is only at 3200- 3500'. Do the Math Thats just under 6000' feet of elevtion gain in Snowshoes on Powder, heading straight up the mountain! It was a major challenge, but look how sweet it was!
first good view on the hike looking west into the Roaring Lion and Sawtooth drainages.
Classic view!!
Finally outta treeline!
sweet!!! there be the summit!!
Canyon Peak to the North
The View Directly North of other Iconic Bitterroot peaks such as St. Mary, Sky Pilot, and Heavenly Twins... etc
Snow conditions that are friendly to the winter traveler!

View South of El Capitan, Lonesome Bachelor mountains
The View directly East at the Pintler Mountains
View West into the Idaho portions of the Selway- Bitterroot Wilderness.
Yay! A happy couple on top of an incredible Mountain!!!
btw the wind chill was well into the negative digits here!!!
I hope you enjoyed my Post. As you can see, I love the Bitterroot Mountains, Montana, and I Love getting out
I hope I inspire.