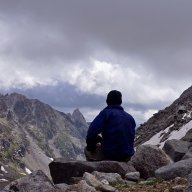 Joined

Jun 14, 2016
Messages

262
The season opener for my 2021 backpacking was a pair of nights in the Bisti Badlands of New Mexico. After a visit to some Wyoming badlands last summer I'm coming to a strong appreciation and enjoyment of these terrains. So stark, so harsh, so quiet, so elemental.
After a bit too much driving, I was more than ready to get out of the 'civilized'. I left the access point at a little before 6:00p with 8 liters of water and a plan to wander aimlessly. I like to do minimal research and planning, preferring to wing it as much as possible. One can find lots of info and pictures online, including GPS points for the popular features, but I'd rather not.
i found a trail and followed it. After a bit the footprints were gone as I continued on a cow path along the edge of the badlands. When I saw a homestead ahead in the distance I decided it was time to veer off back into the badlands proper. It was quite difficult to find a safe route down. I dislike marring the landscape with my footprints so I stuck to the solid surfaces whenever I could. Thankfully a maverick cow or two had made attempts to get in and I used their experience to help me on. I was up against the coming dark and pleased to get to the bottom and a nice flat spot just before night. I slept in the open.
The morning was warm and calm. I set about my plan to wander aimlessly. I went up and down and around a few of the washes. Late in the afternoon I headed back towards the road for a timely exit next day. My camp was not far from where I'd slept the first night. The strong wind blew through my sleeping bag zipper as the temp bottomed not far above freezing. I didn't sleep so well. In the morning I skipped the hot food and drink, quickly gathering my gear. It was chilly enough to hike in my puffy almost all the way out.
Last edited: