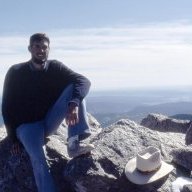 Joined

Feb 1, 2014
Messages

382
I'm a fan of iconic buildings. I posted some photos of the Air Force Academy Chapel and thought I'd add another iconic building to the "Everything Else" string. Bishop's Castle is in the mountains southwest of Pueblo, Colorado. It's unusual to say the least. I've been visiting occasionally for about 20 years, and it's always interesting to see what's changed or been added. I think it's definitely worth the side trip to see it.
I climbed up on the platform inside the dome. It was unnerving how much it swayed walking on it. The stairway on the left ends out in space. That was unnerving too. The stairway on the right goes to another tower, but that tower did not have a stairway in it and I had already been unnerved enough so I didn't walk out on it.
There was a crew of guys up here with me who told me that they build cell phone towers for a living. They said that this stairway felt a lot like being on a cell phone tower - but without fall protection. They were laughing at me telling me to let go of the handrail, but I had just finished taking their pictures out on this and they knew perfectly well why I was having trouble letting go. It was swaying even though there was no breeze, and it was a long way down.
Front view of the Great Hall. This is a composite of 2 photos. I did not notice at the time that I had the photo on the right half out of focus, so not the greatest picture but I thought I'd post it anyway.
Back view of the Great Hall
Looking up the stairway inside the center tower.
The last time I was here was about 10 years ago this structure did not exist so it was interesting to see something new. It looks to me like both the the gate and drawbridge are operable.
...No Drunk Taxpayers...