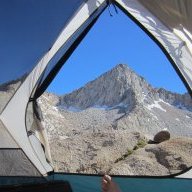 Joined

May 24, 2015
Messages

97
The inspiration for this trip started with a trip to the Mojave National Preserve last year where they have desert tortoises in a protected environment. The Tortoises are protected now but prior to that people used to pick them up in the desert as they drove the roads and take them home as pets. That was not a good thing, since most of the people in California live close to the coast which is not the best environment for the desert dwellers. The tortoises that survive captivity often contract a respiratory infection , like a runny nose, from the moist Pacific air. The tortoises would also outlive many of their keepers. To keep the tortoises from being released back into the wild where they could possibly spread an infection to the wild tortoise population, a tortoise adoption program formed. The program matches suitable backyards and owners with captive tortoises that need new homes for one reason or another but cannot be released back into the desert. Our family was a part of this adoption program and we had some tortoises growing up. They made for great show and tell in elementary school and let us all learn the habits of these desert denizens. I always wanted to see the tortoises in a wild environment having watched them for many years in our yard. The trip to Mojave provided me with that opportunity.
I found a couple of them in spring of last year. It was just the right temperature for them to leave their dens and graze amongst the flowers.
The tortoise pictures with the little spring flowers inspired me to spend more time in my local desert the following year when a great winter of rain was going to make for a super bloom of flowers. Anza Borrego in San Diego County is not known for tortoises but has Bighorn Sheep and lots of other reptiles where I could enjoy my photography hobby. So I made some trips into new remote valleys when the blooms were at their fullest, in search of landscapes and photo subjects. Even on the drive in, the flowers were abundant. Mile 22 Lantana.
Henderson Canyon road before the caterpillars took over.
The Ocotillo Forest area in bloom.
I made a special effort to get up into some remote off road canyons. Some of the trailheads are only accessible with serious four wheel drive vehicles. There are three stream crossings and a steep grade called boulder alley. Most 4 WD SUVs would not make it due to clearance problems. Since I did not have a 4 wheel drive jeep or land rover option I made my explorations into a bike and hike adventure. I mountain biked into Coyote, Collins, and Sheep Canyons. Bikes are not allowed beyond Cougar Canyon so I left the bike and hiked into Cougar, Deering and Indian Canyon as well as Valley of a Thousand Springs. The nights were warm enough, so I just bungeed a bedroll to my handlebars and took some extra food in my pack. Water was flowing in most of the canyons so I filtered it to keep hydrated. The flower landscapes were plentiful.
I saw a lot of wildlife that provided many opportunities to use the flowers as a backdrop. Desert Bighorn Ram
At one point these Painted Lady butterflies were creating a river in the sky as they migrated to the flowers. There were billions of them flying across open parts of the park. It was almost as big a spectacle as the flower super blooms.
Chuckwalla with attitude.
A California Quail. The state bird.
This is where I camped, on top of a spur dividing Indian Canyon from Deering Canyon. This is looking up Indian Canyon before sunrise. Next year I will do a longer trip up and over this drainage to Palm Canyon. My hikes this year where all in and out since I had to retrieve my bike at the original trailhead.
Looking up Deering Canyon. The palms are all supported by small underground springs. These desert oasis palms are the only palms native to California. All the other palms you see in the movies or elsewhere were all imported from other states or countries. These are the only original natives.
Strange rock formation up Deering Canyon. Not sure how that was created. The palms are blackened from a fire that they survived. It must have burned all of their skirts off. The new skirts look to only be a few years old. In some parts of Borrego the palm skirts still go all the way to the ground.
Some parts of the trail were just choked with color! If you got off trail there were tiny quarter inch flowers underfoot with almost every step.
The Hillsides were a mosaic of Yellow Brittlebrush pom moms. Near Bennis Bowl.
Indian Canyon, Scotts Oriole
California Tree Frog in Cougar Creek
My first collared lizard sighting in the park.
I hiked back to my bike and started pedaling back to Coyote Canyon. On the way, I met a couple of fellow bikers out for the morning. We chatted up our love for the great outdoors and the desert wildlife. While we were talking, a Rosy Boa was crossing the road near us so we picked it up, had a photo shoot and then released it further away from the road. They are such beautiful snakes and very docile....probably my favorite wild snake.
Maureen and Steve handing the Rosy Boa.
Safely back in the wild.
When I got back to my car I drove over to the popular Palm Canyon area and hiked the alternate trail to the oasis. I ran into a group of Bighorn Rams in the flowers right next to the trail.
They kept posing for me. When they split up my head was on a swivel trying to keep watch on them!
It was also on that trail that we saw a Red Diamond Rattler. Another beautiful snake.
This guy had a lot of scars!
Single Chuck
Double Walla
Hiking out the standard trail from oasis back to the car can sometimes reveal sheep up on the ridge lines.
This Ewe has a collar on.
This was one of the few Swainsons Hawks I saw this year. Normally they migrate thru the park in the thousands from Argentina but this year there was plenty of food throughout the desert so they may have landed in a lot of other places to refuel. It was a slow year for Swainson hawk watching.
There was a lot of other things going on in the desert this year.
I am glad I was able to spend a lot of time there waiting for the right situations and conditions. It paid off huge dividends in terms of scenery and wildlife encounters.
Thanks for watching.
Tim V.
Last edited: