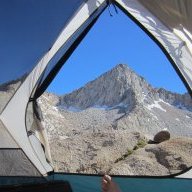 Joined

May 24, 2015
Messages

114
I had first done this Spring biking of Yellowstone park back in 2008 by myself. It was a great experience to be in the park after they had plowed the roads but still had not opened them to the general publics motorized vehicles. I probably over prepared for that trip wanting to be self reliant in case of a breakdown or unexpected storm. The Montana locals do sections of the trip on road bikes as a weekend exercise jaunt with minimal gear, no big deal for them. My trip was more of an expedition on my mountain bike with a big camera and storm gear in case I had to spend the night out. I tried to take every possible side trip and stop at just about every feature or wildlife sighting I saw making use of all of the available daylight. It was a great YNP experience and I vowed to repeat it again someday.
Since that time I have found this forum and in 2017 Blueeyes posted her Yellowstone Spring Bike trip report and it rekindled my desire to get back in the park in April. So this March of 2019 when I separated myself from further work commitments ( ie. retired! yay) I knew I had to return to the park before they opened the roads. I put out a notice to my family for anyone that was available, to join me. My oldest daughter Kelley, took up the offer and we started planning our trip. I had unlimited time available so I decided to drive up with our own bikes and Kelley would fly in later to meet me.
The plan was for me to secure a campsite at Mammoth for the duration of our stay, spend a couple of days car touring the only part of the park that was open, the Northern part of the upper loop, then pick up Kelley at Bozeman airport. We would then start looking for a 48 hour weather window to do our trip. From Mammoth we wanted to bike the entire portion of the park that was open to bikes. That would take us to Norris Geyser basin, then to Madison junction and finally up the Madison River valley to West Yellowstone. We would stay at a hotel in West then wake up and pedal the reverse 50 miles back to our campsite in Mammoth.
I really enjoyed touring the park in preparation for Kelleys arrival. I found the first reported newborn Bison calf of the year in the Specimen ridge area of the park.
I reconnected with the wolf watchers I recognized and we found the Junction Butte pack near a winter kill early in the morning,
Guarding the carcass from scavengers
Bighorns near Yellowstone picnic area
Kelley was a great partner for this trip. Being an avid surfer she had no problem getting up early every morning and getting immersed in the cold to see what nature was going to throw her way. She was as fanatical about wildlife watching as I was. We once traveled to the Salton Sea together to see Burrowing Owls. We stopped counting when we got to 30 but every owl she saw she reacted as if it was the first owl she had ever seen!
By the time Kelley arrived, I had a good wildlife tour plan set up for her. We wanted to give her a chance to get used to the altitude and cold weather so we continued to tour the park for a couple of days. Undine falls.
Bluebirds were out in force.
The weather was getting a bit discouraging. Every night there would be snow flurries covering the park. Most of the days it would melt off and then we would tour the park under cloudy skies. This was a typical morning view of the van coming out of our tent in the Mammoth campground.
We kept analyzing the weather forecasts and comparing them to the real world conditions for accuracy. Our window for biking without car traffic would end on Friday April 19th, when the park officially opened the roads at both West and Mammoth. I was getting more confident in the credibility of the online forecasts. Using them as a guide we were scheduled to ride on Wednesday and Thursday, the 17th and 18th, when some clearing was expected. If the weather did not improve, we were ready to cancel the ride. Neither of us wanted to miss out on a day of touring the Lamar valley, in exchange for a windy, wet, dreary bike ride with low visibility. We were getting quite familiar with some of the wildlife story lines going on day by day in the park. Here is our resident Raven friend begging at one of the park turnouts.
He was unmistakeable with his four bands, two on each leg. Later, he also showed up at another turnout a couple of miles away wanting some of our guacamole dip.
We knew he was up to no good and shortly after this visit onto our table he grabbed the entire bag of Late July chips and flew off with it! Fortunately, it was almost empty and he left a trail of crumbs as he flew. Kelley tracked down the bag and tossed it. We decided those bands on his legs were probably given to him from his time he spent in Raven jail. Kelley named him Gordo and he kept showing up as soon as we would park our van at a new site.
Another couple of characters were the pair of Cinnamon black bear two year olds near the Yellowstone River bridge. They were out on their own enjoying life, climbing trees, rolling in the snow, wrestling and causing mischief.
We made every attempt we could to run into these guys, they were very entertaining.
The coyotes mousing in the Lamar valley were also a reliable stop for great entertainment.
They were very successful. I could use one of these varmint killing machines in my yard.
Meanwhile back at camp, the bikes were looking like they would need to be chiseled out of the ice to be rideable. This is in the morning, 24 hours before we were scheduled to ride.
No worries, we still had a full day to enjoy the wildlife in the park before needing to make a go, no-go decision. We both wanted to see more wolves, but the Junction Pack were not near their den. Fortunately, we found the Wapiti pack on a new kill and had amazing views of them.
Here is one pack member chewing on a leg of elk and the other just watching after a big meal.
They were both full.
Too full to stand up and howl.
An immature eagle was waiting for its turn at the carcass.
Then the wolfs disappeared, only to show up even closer to our viewing site moments later.
Next they posed for a couples portrait session.
Finally a mature Bald Eagle showed up to top off the scene.
After this great wildlife session we did not really care any more if the bike trip got cancelled due to weather. Yellowstone was providing us with great memories. We stopped to see the Cinnamon Black Bears again and this time there was some swift water rescue training going on under the Yellowstone River bridge. Brrr
We drove up and walked the Mammoth Terraces where our bike trip was supposed to begin the next morning, weather permitting.
We came back to our tent and it was still under some snow but the skies were looking more promising.
We dried the bikes, packed them up and loaded them into the van the night before so they would be ready for the morning adventure. The forecast held and that night we saw stars for the first time. We were psyched to get the bikes on the road the next morning.
Spring Biking poster
The only notable uphill climb going South happens immediately from Mammoth up to Rustic Falls. Rustic falls is where Bunsen peak meets Swan Lake flats. After that, the remainder of the day is mellow.
Bunsen peak behind Kelley. It was grey but no precipitation in sight.
On my bike I strapped a stuff sack full of extra down clothing to the front handle bars just in case we had to bivvy for any reason. We both had bear spray since we planned on getting off our bikes a lot to explore. We had seen grizzlies in the Lamar Valley coming out to feed on winter kills. Now they were expected to also start coming out to graze.
Final slope to Rustic Falls
This was our first of many Bison encounters on the roads. I imagine the locals probably just buzz right by them but we wanted to savor the moment so we pulled over every time and let them walk by.
The great thing about this trip is that you can pull over any time you want on either side of the road for any reason. If you were in a car during normal tourist season the driver of the car would have to search for a place to pull over whenever something interesting was encountered. Sometimes that can take you far down the road.
Here we are at Roaring Mountain.
I had three layers on this day but would unzip my down jacket when I got warm from pedaling. We both biked with gloves on because the wind was sometimes strong. When we got to the Madison River Valley we were met with a significant headwind, as expected, that slowed us down.
Swans near the Gibbon area.
We knew the weather was continuing to improve so we saved most of our sight seeing for the return trip the next day.
It was late afternoon as we reached West Yellowstone with plenty of light to spare. We were both a little saddle sore and stiff, but still had energy in reserve. We showered, ate at a restaurant and actually slept in beds. The next morning we were greeted with a cloudless blue sky in West Yellowstone. Both of us were amped to get back on the bikes and pedal back into the park! It looked like we were going to have blue clear skies and the wind at our back.
We took a selfie using the YNP West Entrance camera on the way back into the park.
This turned out to be an epic day to be biking in the park. The Madison River Valley had a new scenic landscape with each bend in the river.
Every new turn became my favorite view of the day.
An Osprey was flying around after catching a fish.
The Madison River valley is very flat in either direction for 14 miles. Then there is a bit of climb to follow the Gibbon River up to Gibbon Falls on the way to Norris Geyser Basin. It is a well tiered slope however and we both thought it was easier than we were expecting. There was a fair amount of rockfall on this final turn to the falls.
After that morning climb we stopped for the first of our two lunches. We biked with a box of aromatic pizza leftovers ( Wild West Pizzeria...Yum!) that we ate for our first lunch at Gibbon Falls. I am not exaggerating when I say that was the best pizza I have ever had!
After this stop it had warmed up enough so that I spent the rest of the day in a tee shirt and no gloves. Some locals biked by in shorts. A huge contrast from the weather of the last 7 days.
Falls Closeup
Beryl Spring in good light.
American Dipper with its nictinating white eyelids showing.
Another Bison encounter on the road.
Shortly after this easy bison encounter we had a more difficult one. A big bull bison was in the middle of the road coming towards us but then stopped, reversed direction, and started running in the direction we were pedaling, while staying in the middle of the road. We followed it safely but then it would stop turn around and stare towards us for a while. Then it would charge off again in the direction we wanted to go. Most of the Bison encountered on the road while in a car or on a bike are just walking, usually as a group at a slow regular pace. This bull was agitated, not necessarily with us, but it was a big load of momentum when it was running so we stayed safely away, planning our attempt to pass it. Finally, a car came and scared it off to the side of the road momentarily, but we were too far away to follow behind them and the big bull returned to the middle of the road and faced us down again. We grouped together and pedaled after it as it started running hard again, in the direction we wanted to go. Suddenly, it made a turn off the road. This was our big chance. We picked up speed and started to catch up to it. Now it was running fast on a dirt trail parallel with the road. I started to shift into passing mode but just as we picked up our speed I could see the bisons trail might lead him back to the road. I slowed our game of pursuit just in time, as the bull cut back over and returned to the road again! He stopped to stand in the middle and stare in our direction again. We probably would have intersected him with a close crossing if we had attempted to complete our pass. Now we were as close as ever to him! He was breathing hard from all of that energy being burned. Then he started running again....away from us fortunately! This time he went down the road and found another trail off to the side. We followed knowing this was our best chance yet to pass. Suddenly, from a small hill in front of our bison nemesis, came five other charging bulls in a cloud of dust to greet him. It was exciting to see all of this mass of bison at top speed. They all came to a stop as the other bisons greeted him and some of the group started head butting each other in some social display. I stood and watched in awe while Kelley was pedaling like Lance Armstrong to get away! We easily got past all of them, finally, but what an exciting encounter! I truly believe the bull bison was never really staring at us, but was looking for another big bull bison that had passed us just moments before we ran into our guy. Once he lost track of his mate he was confused and ran back to the rest of the bull boy group.
That was certainly the most memorable bike versus bison encounter I have had in my two trips doing this adventure.
Here are some closeups of the peaks within view as we approached Swan Lake Flats.
Sandhill cranes were out at the flats.
They flew away but landed behind a coyote.
As we approached Bunsen Peak and Rustic falls, we knew our riding was almost over.
Just a short coast downhill thru the Hoodoos to our car. (The Hoodoos is another of those places that have no roadside room for a car to stop)
Bunsen Peak
That concluded our riding for the trip. It was a remarkable day and not too taxing at all.
The next day we took advantage of the road opening up and drove to the parts of the park that were previously inaccessible. We started with Old Faithful. There were no services open other than the visitor center and a self serve gas station. We walked into the visitor center to plan out our geyser viewing. I immediately asked about Beehive Geyser since there was no time posted for its next eruption. They said they thought it had erupted the previous day but were not sure, so they could not provide an estimate for it. We saw that Riverside and Old Faithful were scheduled to go off at about the same time but we would have to pick one of them to view since they are not near each other. We watched Old Faithful go off.
Then we went on a short walk to view some of the colorful hot springs in the bright spring light.
I think this is Heart Spring.
This may be Crested Spring.
Then we took this joke selfie at Depression Geyser.
Shortly after this we walked past a dormant Beehive geyser. Just then a geyser expert stopped us and recommended that " we might want to stick around". Evidently he had seen Beehive spout quite strongly, one of the indications that an eruption could be near. He told us that the other precursor to an eruption was a small nearby spout that they called Indicator, but it had not gone off at all. He was hopeful that maybe an eruption of Beehive could happen without Indicator going off, so we trusted him and sat down for a bit. These geyser guys are really into gathering data and it was evident they were glad to be back in the park on opening day, back into their element. We chatted with him for a while during our wait. I would have really liked to see Beehive go off but it only happens about once every 24 hours and so half of those eruptions are at night, in the dark. After a good wait, I told him I actually liked to see Beehive go off from a distance, since it was so massive and hard to get into one camera frame. So we started to leave with hopes for an eruption failing all around. As we walked by Beehive, suddenly the Indicator shot a spout of water 18 inches high. The geyser expert let out a shout and before we knew it the show was on!!

We had actually stumbled onto an eruption of the only other geyser we really wanted to see.....and we were standing right next to it!!!

Yellowstone the Wonder park had struck again!!
The eruptions last multiple minutes and goes much higher than Old Faithful. The sound is also quite impressive. That is indicator to the left.
The day was already a total success. Depression Geyser had only been able to get us down for about 5 minutes before the park did its magic once again.
I kept repeating out loud " I cannot believe we just saw Beehive go off and we were only here less than an hour"! Ron must be involved somehow!
We piled into the van and drove off for the Canyon area to see the falls. Seeing Yellowstone Falls in April was special. The snow really made for unreal contrast with the color of the canyon walls.
Artist Point on the South side
I knew there was a river otter family that lived near the upper falls so we headed that way next with faint hopes that we might see an otter.
Upper Falls
We did not see any otters but on the drive out a big grizzly was right near the road. Here is a blurry head shot thru the trees.
On the drive home we also saw a gorgeous fox close up.
That closed out a great opening day in the park after our ride. Kelley only had one more half day before she flew home so we decided to spend it in the Lamar Valley checking in on our wildlife friends that we had become familiar with over the past week.
In the early morning we drove East toward the Lamar area. At the Yellowstone River bridge area we once again saw one of the cinnamon black bears.
We kept heading East looking for wolves. Instead we noticed a single large bison running downhill. Straight down the fall line. Definitely not normal behavior. I got out the binoculars looking for sign of wolves or bears, Instead, I noticed a shadow alongside the big bison....it was the little red dog baby bison running beside mom. They both slowed down but continued directly down the hillside to the safety of the road exactly where we were parked! We were both thankful they had escaped whatever they were running from.
We continued a short ways to the Slough Creek turnoff and noticed all of the wolf watcher scopes were not pointed towards the Junction Butte den site but instead, were pointed toward the hill where the mom bison had descended. Evidently the wolves were out on a hunt, stalking and prodding the numerous Bison and elk on the hillsides. What a great bison mom she was to sense danger and run from it with her little one!
Here are some of the pack as they crossed the hillside on the hunt.
They moved fast looking for vulnerable targets, we had to use the car to keep up with them. Here are four in one frame still on the morning hunt.
The wolf watchers later told us that the little red dog bison was still the only one seen in the area and that the other bison gathered around it to shield it from the wolves during the hunt.
The wolves disappeared up a hill for the remainder of the morning. We came across this smaller beautiful young coyote hunting near the road.
A Mountain Bluebird in flight.
When it was time to turn around and start heading out of the park to the Bozeman airport we realized that we had seen two of the three canine species that the park has to offer that morning. We had seen the wolf and coyote but were missing the fox. We needed the fox to have a Three Dog Day. As we pulled into the Yellowstone picnic area for the last time to look for Gordo the raven or the cinnamon black bears, Yellowstone surprised us again with its magic. Another beautiful fox passed right in front of our view from the car!
So in one half day of viewing we had not just a Three Dog Day but a Four Dog Day since we had also seen the Red Dog baby bison. It was a great send off for Kelley. A great way for her to end the trip.
Thanks for watching.
Tim and Kelley V.
Last edited: