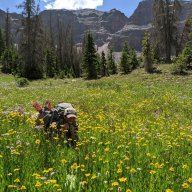 Joined

Feb 12, 2014
Messages

751
August 1-4, 2017
My big trip for summer 2017 was in the Bighorn Crags located in central Idaho in the Frank Church-River of No Return Wildness. This wilderness area is absolutely gigantic. It's listed as 2,366,827 acres. For comparison, Yellowstone NP is just over 2.2mm acres, and the High Uintas Wilderness in Utah many of us are familiar with is 456,705 acres. The Bighorn Crags are a hidden gem in the west. Hidden for a good reason too, it takes (cue the movie Sandlot) FOR-EV-ER to get there! From my home in Saratoga Springs, UT it took nine hours of driving to reach the Bighorn Crags CG/Trailhead. Including 50 miles driving on a dirt road. My brother Steven (@
sparker53x11)
and I met up in Pocatello, ID and continued the rest of the way to the Crags CG.
Along the way we drove by Borah Peak, the highest point in Idaho (12,662').
Since the drive takes so long, we spent the first night at the Bighorn Crags CG. It's a small CG, but still fairly nice and well kept. It does have pit toilets and fire pits in each camp. There is also a camp host on site that lives in a sweet little cabin during the summer months. Costs only $4 per night.
In the morning we decided that we liked the larger four man tent instead of my two man tent, so we split the tent up and packed it with us and left my BA Copper Spur 2 in the car.
Here we are at the trailhead.
The trail is very well marked and like the Sawtooths in Idaho, there is lots of elevation gained and lost...always going up or down!
Cathedral Lake
The views were great, and as expected...very "cragy".
Wilson and Harbor Lakes with Fishfin Ridge on the right. The lake we will camp at is Birdbill Lake, and it's on the right on the other side of Fishfin Ridge.
Looking down at Mirror Lake.
We hiked in on Wednesday Aug. 2nd. On the previous Friday Sept. 28th, a horse slipped and fell to the bottom...seen here. It smelled nice n ripe.
Another shot from a different angle of Fishfin Ridge.
Steven hiking up the trail...probably digging for more peach rings.
After hiking around Fishfin, this is looking down at Mirror Lake.
And on the other side we see our destination, Birdbill Lake.
Here's our camp. We had the lake all to ourselves the whole trip. We did have the occasional backpacker passing thru, but pretty much solitude.
The next day we did some exploring. We hiked to the largest lake in the Bighorn Crags, Ship Island Lake.
This would make for a great basecamp too. The lake is large and on the far side is Wolf Fang Ridge, and it looks to be a pretty cool place to explore.
There were a lot of grouse in this area too.
After leaving Ship Island, we made our way to Airplane Lake.
After Airplane, we decided to head off trail and attempt to summit Mt. McGwire...the highest point in the Bighorn Crags. We hiked up a dry creek bed for a while.
We then came upon this tarn and had lunch and took a dip too. The water wasn't nearly as cold as we expected.
Instead of summiting McGwire, we opted to summit another peak that looked down into some other lakes. This is looking back at the tarn and you can see Wolf Fang Ridge on the right too.
Once at the top, we could see down to Glacier Lake, Big Clear Lake and Crater Lake. And we had a really good cell signal here to check in at home too.
Headed back down you can see Airplane Lake.
Coming down was a little sketchy.
Back at our camp we lounged in our chairs, looked over maps and enjoyed some R&R.
The next morning we packed up and headed back.
A last look at Birdbill Lake and where we camped.
On the way out we passed by Wilson Lake. Fishfin Ridge above the lake and Birdbill Lake is just on the other side. This would have made a great camp location too!
Steven soaking in the views.
We made it back to the trailhead. Looking at the register, only 10 people/groups registered after we did, and most seemed to go to Terrace Lakes or Welcome Lake...we didn't even see those lakes. Maybe next time.
Last edited: