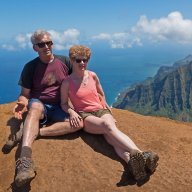 Joined

Sep 22, 2016
Messages

818
Our two week long October trip to southern Utah was a bit too brief, but we had a great time and- other than one afternoon downpour- perfect weather.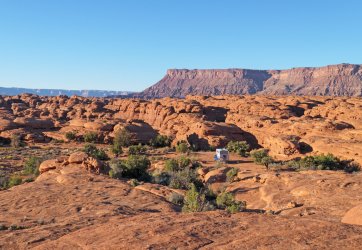 We based out of several great camping spots.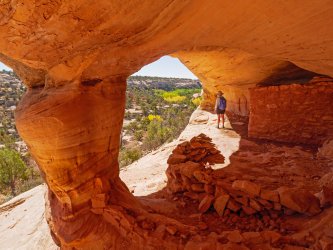 Checked out some prime real estate.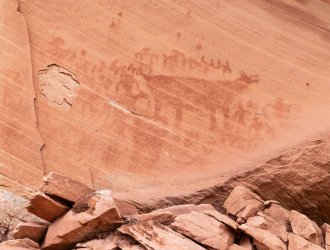 Viewed artwork both man made...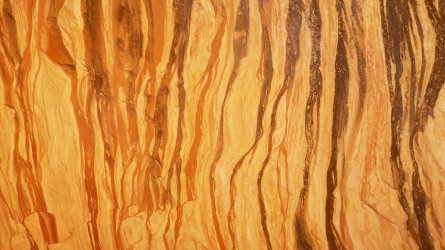 ...and natural.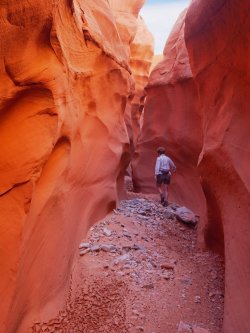 Scrambled a colorful canyon.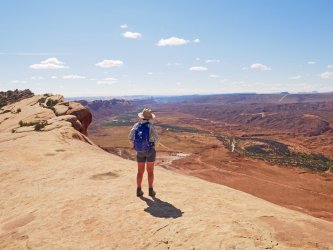 Took in some big vistas.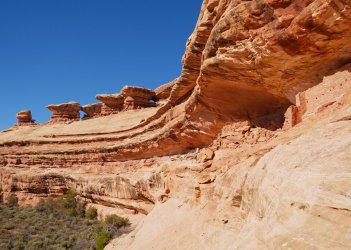 Dropped into a gulch.
Saw things from a different point of view.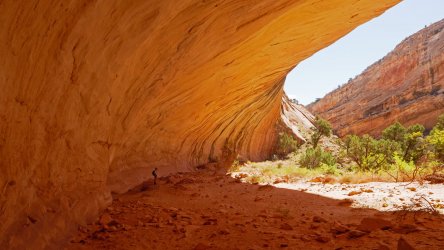 Hung out under overhangs.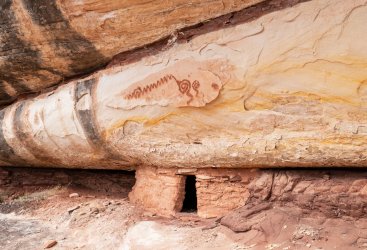 Travelled back in time.
And enjoyed many warm nights around the campfire.
One hike will stand out as the most memorable, though- the loop taking in Big Springs and Elephant canyons at Needles. We had been to Needles 3 times previously over the course of 20 years of almost yearly desert trips, doing most all of the trails in that time, but somehow not this particular loop. Follow along: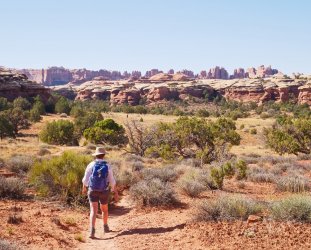 Heading up Big Spring with views all around.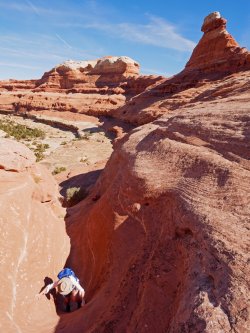 Things get interesting climbing out of Big Spring.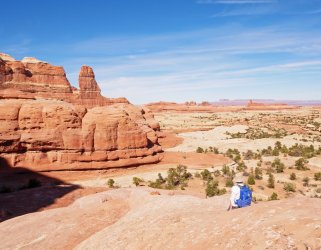 A look back.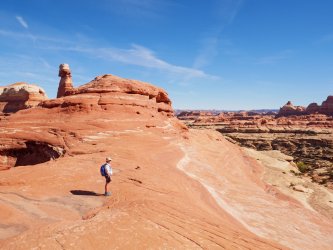 And ahead, at the pass between Big Spring and what is now apparently to be known as "Woodenshoe Canyon". We had done the short loop heading back out that canyon on our first visit to Needles way back in 2003.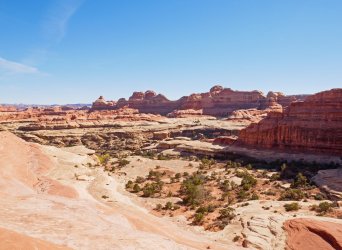 Looking to the route ahead, with one of the only two other hikers that we would meet until hitting the Chesler Park trail later on, barely visible down below.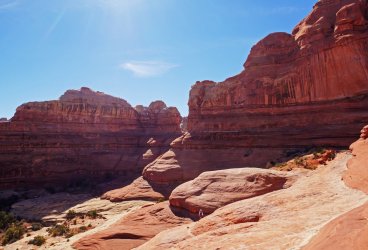 Descent route under grand cliffs after lunch.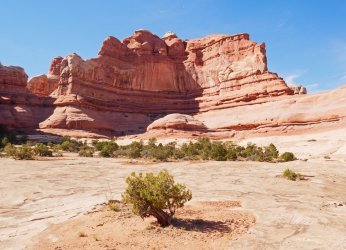 The first of the 3 passes along the route, on the right skyline.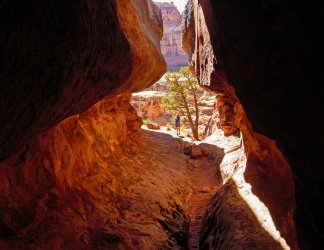 Interesting hiking, now on new ground for us after going right instead of left at the last junction.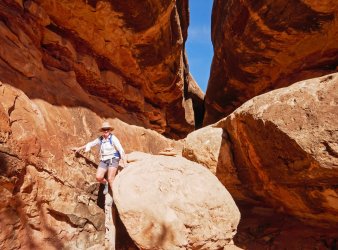 The first of 3 ladders is a notched log.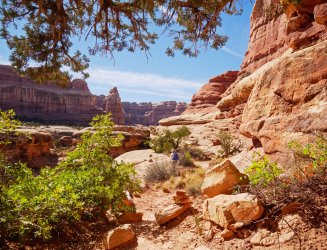 Cairns lead the way.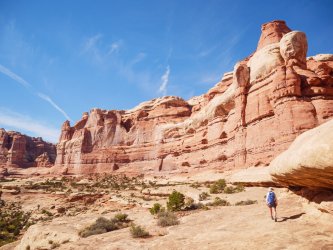 Ledgewalking towards the next pass, at left.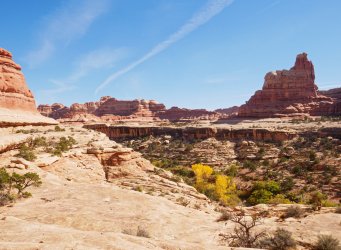 Looking back.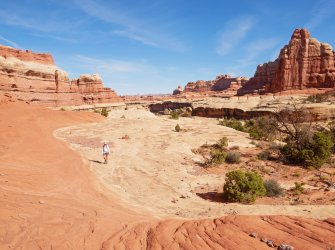 It was sweltering HOT for these Canadians in the curving basin of reflecting white rock!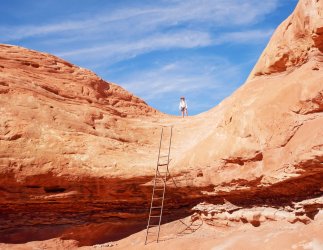 The second pass of the day.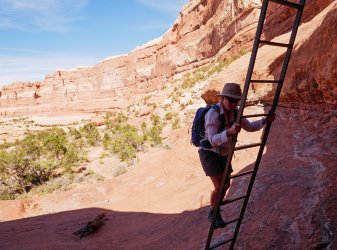 And another ladder (plus some moki steps) down the other side into a branch of Elephant Canyon.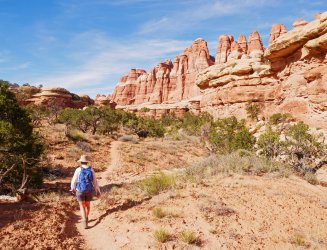 At "Ladder Pass", we had expectations that the ongoing route might continue above the drainage on the white sandstone benches, but after too short a stretch of that, it dropped down and undulated in and out of the wash.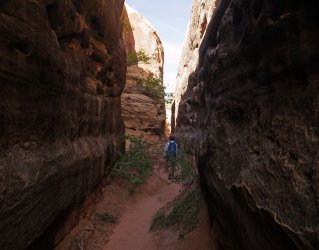 Back on familiar territory for a little while on the Chesler Park trail, which we have hiked several times.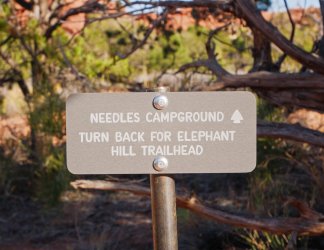 And then, another trail that was new to us. Why a picture of this sign? Well- there's a long story to be told of our friend Jim, who made this very mistake after forgetting about driving from the campground to the Elephant Hill trailhead, and instead returning directly to the campground. Doh!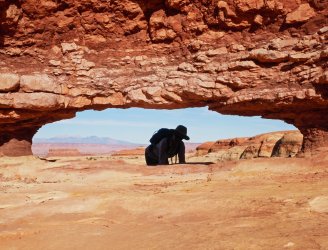 Peekaboo!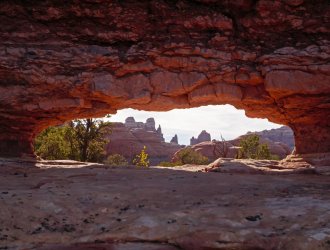 Playing around with the camera, while snacking on the shaded side of the little arch.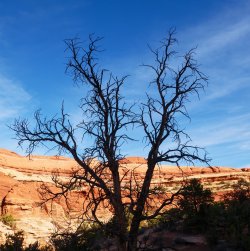 The trail winds around several side drainages...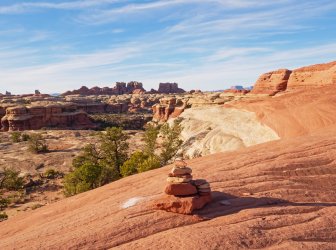 ...before climbing to pass #3 of the hike.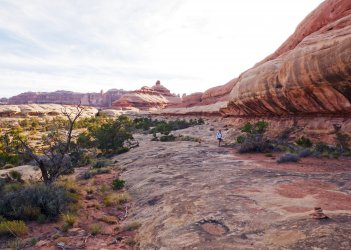 From there it was an easy walk on extensive ledges back towards closing the loop.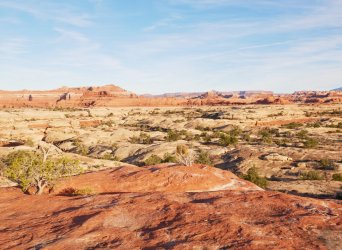 Views all around.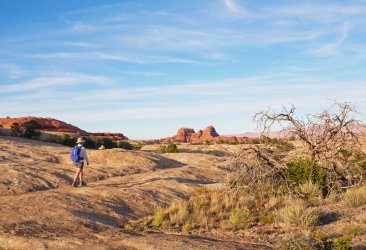 Homeward bound after a perfect day!
Last edited: