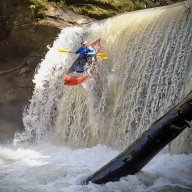 Joined

May 3, 2013
Messages

556
The
Big South Fork NRRA
is a Cumberland Plateau gem. Remote and wild with options for everyone...hiking, backpacking, paddling, horseback riding, mountain biking, fishing, rock climbing...it's got it all.
I mapped out a 21 mile loop starting and ending at the Leatherwood Ford bridge which is the end of the whitewater section and start of much calmer water, except for two class 3-4's depending on water level. I paddled 8 miles, portaging Angel Falls. About a half mile from Station Camp Creek is an old logging road on the USGS quad, not found on any other map. It cuts off about 2 miles of horse trails, a nice shortcut to the John Muir Trail (the other lesser known JMT). It was overgrown and steep, no one has hiked that route in a long time. Once at the top of the cliffs I met up with the JMT and camped on the rim, waking up in the clouds. It was 13 miles total of hiking back to the car with a stop at the Angel Falls overlook. Perfect overnight trip.
Leatherwood Ford
Below the Angel Falls portage
I ran into my good friend Bart and his buddy below Angel Falls, they were doing a 4 day trip. Nice to have a little company on the river.
My camp in the morning, head in the clouds. Somewhere down there is a big canyon.
Pink Lady's Slipper
Wild azalea
Angel Falls overlook
Big, sluggish copperhead on the trail. My spirit snake.
Bringing my two favorite plateau's together - Colorado and Cumberland.
The route