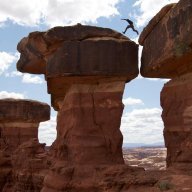 Joined

Jan 17, 2012
Messages

328
@drclef
and I took advantage of the long July 4th weekend and paid a visit to the Boulder White Cloud mountains of Central Idaho. A maiden visit for us, we were intrigued by it's dramatic granite ridge lines, lush, lake-dotted basins, and relative obscurity. Photographs that I'd seen online reminded me of my old stomping grounds - the High Sierras - more so than any other landscape I've seen so far in the Rockies. It's difficult to match the ephemeral grandeur of the Range of Light, but the White Clouds came pretty damn close.
Not that we needed the extra motivation to make the longish trip up (in total about 7 hours from SLC), but the prospect of meeting a far-away friend provided a little bonus stoke. There was a pretty good chance that we'd be able to meet up at our destination with BCP's very own
@River
, a buddy of ours that we've done a few canyons with down in southern Utah. Erik and his pup Molly would be driving in from Boise early on Friday morning and getting a later start than us, so we decided that Erik would try to meet up with us at Cove Lake, one of the larger and more accommodating lakes in the basin.
The trailhead was fairly remote, located a scenic 45 miles or so from Challis, Idaho. Our yawny but eager early morning drive from the dusty hamlet followed west along the Main Fork of the Salmon River before branching off south along it's little tributary cousin, the East Fork. We found the Livingston Mill parking area without a problem, and were walking by 8am, beating several groups that were just beginning to stir at the informal trailhead camp. Good thing, because I had no idea how crowded this place was going to get, especially on a popular holiday weekend. Hopefully this meant first dibs on the prime real estate up in Big Boulder Lakes Basin, our goal for the weekend. Nothing like finding that perfect base camp for a two night stay.
After following the sylvan Big Boulder Creek for the first few miles, the trail began to climb in earnest. Views of the high silvery crest to our west began to reveal themselves, our destination. By Rocky Mountain standards, the mixed conifer forest (mostly Lodgepole, Engelmann Spruce, and
massive
Douglas Fir at the lower elevations) was in exceedingly good health, kind of a rare and happy sighting these days. Inspired by the cheerfulness of a robust and healthy forest, we were further inspired by the first views of the jagged, unnamed peaks that formed the head of the cirque that we'd be exploring for the next few days. Sadly, I don't have any images of these first few vistas, as I've really become averse to wearing my chest pack lately. But eventually I couldn't resist anymore and begrudgingly threw the Clik Elite Access pack on and grabbed a shot of Mandy coming up the final push before Big Boulder Lakes Basin: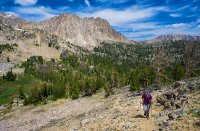 We finally arrived at Cove Lake, our destination for the night, and were pretty pleased that we had it to ourselves (for now). We pushed along the east side of the lake and settled on a cozy little camp along the southeast corner, giving us views of a considerable part of the basin. We hung everything colorful that we had in the trees, with hopes that we would catch Erik's eye once he arrived at the Lake.
After a quick nap and some supper, I took my camera gear up above Cove Lake into a little feeder cirque that Mandy explored earlier in the afternoon. I just kind of hung out up there alone until the light softened up a bit, enjoying the silence. Here's the northern view from Gentian Lake: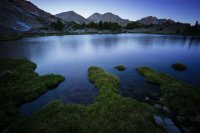 And the outlet of Gentian Lake, with Peak 11263 standing sentinel in the background:
Got back down to camp to find Mandy getting ready to hang the food but still no sign of Erik. Super bummer. We were still a little hopeful that maybe he just decided to camp a little lower and would join us the following morning.
Speaking of the following morning, there was potential brewing when I poked my head out of the tent and noticed some whispies breezing by - the types of clouds that can hold really good morning color. As the sun got higher in the sky, the pinks and magentas followed. What a great color scheme to wake up to. Here's the view from near our camp looking south at Peak 11272: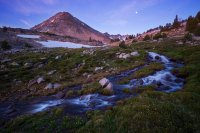 The following two images are from the same waterfall, shooting back across Cove Lake at the serrated spine of Peak 11102. I love the colors of the first one, but prefer the composition of the second, taken about 20 minutes later. Two faces of a similar scene: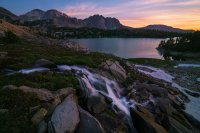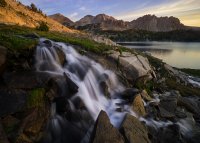 Even though the sun was up and roaring, I wasn't feeling like putting the camera away yet. This one is from the shoreline of Cove Lake. I got such a kick out of these Marsh Marigolds (
Caltha palustris
var.
alba),
working their way triumphantly to the surface of the lake: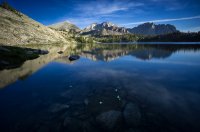 Back at camp, sipping coffee with a decision to make. We still held out hope that Erik would show, but we also really wanted to check out the other lakes in the upper part of the basin. What could have happened to him? Did something come up on the drive and he decided to turn back to Boise? Did he get ravished on his hike by the Sensual Mermaids of Big Boulder Creek? Or less likely, could it have been that he arrived at dusk the prior evening and was actually camped a mere 200 yards away from us? Nope. That can't be it...We decided to pack up and move camp up to a really obvious place along the shore of Sapphire Lake, feeling confident that the always intrepid
@River
would locate us if he made it up this far.
We found a fantastic established campsite near the outlet of Sapphire Lake, and once again found that we had an amazing place to ourselves - for now. We filled the late morning hours and into lunch time letting Ellie get some diving exercises in: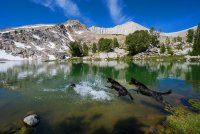 It was around this time that we began to see some day hikers from the lower lakes stream up. And it was around this time that I spotted an orange dog and beige human being walking the ridge line just to the left of the previous image. I gave a hoot and he gave a wave back. They found us!
Turns out he was in fact camped very close to us. He just got in too late to see our tree decorations, and we got in our tent too soon to see his headlamp messages. While we caught up, Molly went fishing in Sapphire Lake: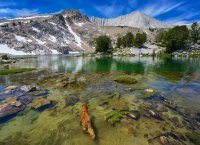 After hanging around in camp shooting the shizz for the better part of the afternoon we decided we should get off of our lazy butts and explore even higher in the basin. So we set off for Cirque Lake. Here's Erik taking in the view, looking back towards Sapphire Lake: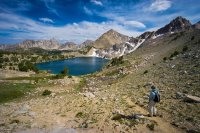 Erik and I stopped at Cirque Lake while Mandy and Ellie went a little higher yet to check out the Kettles and get a closer look at Peak 11013: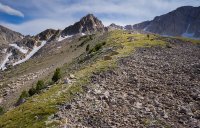 It was around this time that we had our second sighting of (and loving greeting from) a lost and hungry border collie pup. We had spotted him earlier in the day tagging along with some day hikers that were cruising past Sapphire Lake while we were lounging. It wasn't their dog, and they reported that he actually camped with them the night before way down low at Walker Lake. From the sounds of things, he was hopping from group to group, hoping for a little food and a
lot
of love. Poor guy. We were sure to give it to him. And now we spotted him way up here in the cold talus fields, 11 miles from the closest trailhead, all by his lonesome again. We gave him a few bites to eat and some hugs. The dogs tolerated his playful advances grumpily but peacefully, thankfully. Good thing because he was coming back down to our camp for the night. We hoped to herd him out to the trailhead with us in the morning and hopefully find some answers there. To make things even more complicated though, "word in the Basin" was there was a second pup, a diminutive little one with piercing blue eyes. They got separated at some point, but were most likely from the same place. We were told that we would find that group and that pup down at Walker Lake on our hike out the following morning. Maybe we could put the pieces together there. Hopefully we'd find some answers. We weren't quite ready to take on a second dog yet, but the reality became more clear, and more likely. Or so it seemed. If these were Salmon River ranch dogs from down below, there was little chance that they'd be chipped. We weren't really prepared to take a second dog home, but this face would've been pretty difficult to say no to: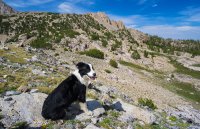 Our big happy herd (plus one) made our way down to camp for dinner and with good luck a tantalizing sunset show. Unfortunately the latter never came, as thick clouds rolled in, and didn't stop rolling in. Thankfully they parted somewhere out west and allowed the tiniest little shard of light to heat up Peak 10818 in the distance with an eerie and exact spark of red: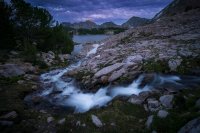 Both Erik's and our pups are fairly protective of their tent territory, so there would be no cuddling up inside of our shelters for our new found road-weary friend. With his thick coat, I don't think he minded all that much sleeping out on the ground, as he made it through the night just fine, only barking a couple times (most likely to ward off deer that were near our camp earlier). One helluva pup here.
Woke up on the always melancholic final morning to another colorful dawn light display over Sapphire Lake and D.O. Lee Peak, one of the few peaks I could find a name for in the range: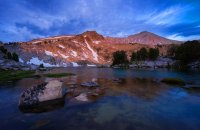 We were packed almost immediately. Not much time for lounging as we had a long hike and long drive ahead of us. Not to mention a couple of lost dogs to manage. We hiked cross-country past a few small tarns before we met back up with the trail. Here's Erik and Molly: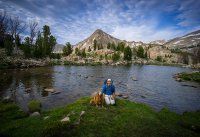 Erik and Molly again, taking the switchbacks down towards the forest. The mostly cloudy sky provided some really nice diffused light on the first part of the hike out.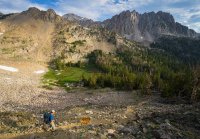 We made quick work of the upper part of the hike and were able to connect with the group that had the other pup at Walker Lake. We didn't hike with them as they weren't quite ready to hit the trail yet, but agreed that we'd wait for them at the trailhead. On the way, I stopped for one more photo. This one of Gunsight Creek: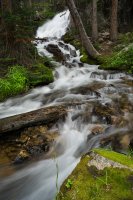 Getting Bandit (as we were to later learn was his name) down to the trailhead was a little trying at first, but with time we got the hang of it. I think our biggest fear was that he would split again, as he had a penchant for getting distracted and wandering off trail. But for the most part he was a terrific trail companion. We got back to the car, gave him a little more food and water, and the poor dude passed out under a car that was parked next to us. Our only viable option at this point was to stick our necks out and trespass onto a private, dilapidated "community" at the old mine near the trailhead and ask if anyone there knew about these pups. But odds were probably better that we'd get shot at before getting any answers. This was true backwoods stuff, and I think both of us were nervous. The old mill and environs consisted of 10 or so two-story A-frame shacks that were still apparently lived out of. Squatted out of? Half were most likely condemned, what with caved in roofs, broken windows with stained curtains blowing in the breeze, skulls in doorways, rusted paraphernalia from a different time decaying on splintered porches...that kind of thing. We drove in anyways. We noticed a newish F-150 parked by one of the homes when we hiked in three days prior, but that was gone now. But there
had
to be someone around. It just felt like it. And sure enough...as we pulled in between two of the shacks, about to turn around, there he was. But oddly, he was walking away from us along a row of willows, despite undoubtedly hearing Erik's truck. Almost as if he was fleeing
us,
ironically
.
Now we were even more spooked. Unsure of what to do, we decided that we would not pursue him; rather, we would pull back out of this one-way David Lynch-meets-Twilight Zone-trap and get back onto the main road before it was too late. That worked out -- until we saw him again. This time in the road, our only path out. This time, there would be no avoiding him, or him avoiding us.
And wouldn't you know it -- despite our trepidation, this guy solved the problem of the lost dogs. Turns out the owners lived some 6 or so miles down the road away from the trailhead, along the E. Fork of the Salmon on a ranch. They had been up to the Mill earlier that day to ask around, and happened to talked to this gentleman. At the end of an intense sermon on everything from gout to synchronicity to AM radio to VOTE TRUMP, we got the address. So...that's it, eh? After a good 5-6 days running free and wild in the mountains, the dogs would be on their way home.
Which normally would be one helluva happy ending. But this one had an unfortunate melancholic shadow to it. When we arrived at the house, the dogs couldn't have been less happy. As a matter of fact, "Bandit" hid under Erik's truck again, showing no positive signs at all at the voice or presence of it's human. We ended up having to bribe him out from under the truck with treats. Just a sad situation. Were they being treated poorly? Neglected? Malnourished? It's hard to say. I think the most frustrating thing about it is, while outwardly expressing joy and appreciation for us finding her pups, it didn't appear as if she or her husband were doing a whole lot to locate them over the last several days. It just bothers me to think this could, and probably will, happen again.
But in the meantime, I'm trying to stay positive and just be happy that we got them out safe and found them their home. Can't control anything else beyond that. And the whole thing just added a unique layer of adventure that you don't normally get on a backpacking trip. Great times in the White Clouds!
Featured image for home page: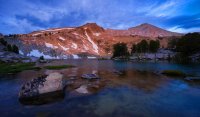 Last edited: