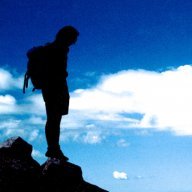 Joined

Jun 25, 2012
Messages

4,420
All these recent bear attacks have me wondering....
Post up your first hand accounts of being charged and/or attacked or even an interesting encounter by any animal larger than a mouse. Moose, horses, wolves, etc. domesticated or not. Maybe leave attacks by somebody's dog off like happened to
Bob
and I this weekend in the Lost Rivers. I was inspired for the thread by the BCP guy that got molested by a few domesticated horses (
Joey
here
) and
Absarokanaut
(recently in this
thread
) who was charged by a bear and fended it off with pepper spray.
My Mountain Goat encounter...
I'll start. I was in North Cascades National Park some years back in June and my wife and I snow-hiked up towards the Liberty Bell Spires. My wife bagged out and I continued to the base of Liberty Bell Spire. I wanted to see if I could solo climb the easiest way up. A 5.6 route with a one-move-wonder crux right off the ground at the start. Or, at least, I wanted to recon it for a future attempt. It was a steep-ish snow approach to the base of the Spire with a narrow ridge at the base. I topped out just near this little ridge and stuck my head up to see the start of the route when I saw two female mountain goats (
Oreamnos americanus)
and 2 or 3 babies (nannies and kids) take notice of me from 10 feet away. I said "shite" since I needed to get by them in order to examine the start.
So I started sneaking by just below them. One nanny decided she didn't like that and started head waving those horns at me. Now, goats aren't the largest and scariest creatures there are but she was over my head above me and a little intimidating anyway. She decided she had enough and charged off at me. I jumped and moved to put some bushes between us. I was then quite motivated to traverse past them by going below and around and I then examined the route. I lost my nerve to solo the route after looking at it and turned around and snuck back by the family.
Even though I failed to do the climb and got scared off the pass by a waste-high, pint-sized goat I considered the day a win nonetheless.
Who else? We can all learn from each other.
Last edited: