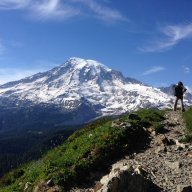 Joined

Jun 22, 2015
Messages

150
So i just received my BA Shield 2 tent in the mail today. I had been looking at what tent to get for the last year. Yes, sometimes it takes me a "while" to make up my mind on what to get.
I finally decided on a 4 season tent, rather than getting my second choice (MSR Hubba NX 2) simply because I am moving to Utah and will be in more adverse conditions than up here in the PNW. It would be overkill, and may still be overkill - that is to be seen.
There really are no reviews on this tent, since it is still new. So here is my quick overview of this tent. Mind you I only set it up in doors. Might be heading to Rainier next week - so will have more to add to this.
Set up of this tent is probably as quick as a fly creek. There are two poles that cross at the middle, and another "support" that attaches above the door. The lack of a rainfly I will need to get used to. The tent is fully seam tapped - the inside looks a lot like a Gore-tex Pro jacket. Build quality seems super high. There are two inside pockets, on each side of the single door.
I also like the placement of the door - right in front. There is no dedicated "screen door", as this is a winter tent -however there is flap you can open up to vent. This tent I suspect will be warm - so I will need to get another tent down the road for late spring type adventures down south (GSE, Moab, etc etc) as it would be uncomfortable if the low temps were higher than 55.
The interior space is pleasant. Enough for my wife and I. I wouldn't want to shack up with a buddy, but it is doable - sure it is no different than any other 2 person tent. The tent stakes are okay, but I am going to get some heavier duty sand/snow stakes before i really use this.
Here are a few shots. More will be added